Android Oreo hasn't even reached most of the phones, yet Google recently released the first Android P Developer Preview.
With a mere 1.1% percent of all current Android devices running on Oreo, the company has decided to shift its focus to the next version.
We can expect Android P's release by August 2018, around the same time when Oreo went public, a year ago.
While people speculate the name of Android version 9.0, let us take a look at the list of best features from its first developer preview.
Android 9.0 Feature Overview
1. Indoor navigation with Wi-Fi RTT
Android P now supports IEEE 802.11mc WiFi protocol which is also known as Wi-Fi Round-Trip-Time (RTT). It's one of the best features that Android fans are waiting for.
This new feature enables indoor GPS style tracking by determining your location within a building and facilitating turn-by-turn directions to help you navigate indoors.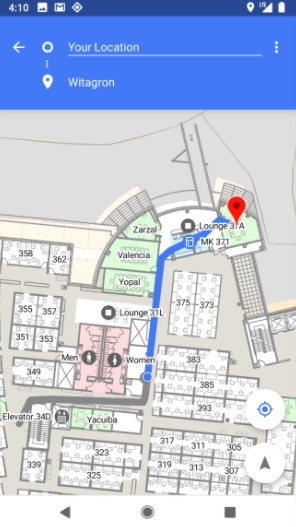 It means you can now find your way across short distances within malls and large buildings.
2. Support for HEIF image and HDR VP9 video format
The High Efficiency Image File Format (HEIF) is a new image format developed by MPEG group. Its advanced compression method retains higher image quality than JPEG images and creates smaller file size.
The built-in support for High Dynamic Range (HDR VP9) in the latest Android version 9.0 allows you to create HDR-enabled videos that can be viewed on devices and apps that support it.
3. Increased security
With the increase of privacy concerns like Facebook tracking your activities, it's a relief to know that Android has revamped its privacy factor in the newest version.
As of now, once you allow an app to access your camera and mic, it can use them whenever they want. But Android P will block apps running in the background from accessing camera and microphones.
In case an app tries to use your camera without you knowing, it will be shut down and receive system errors whereas apps that attempt to record audio will capture blank sound until you open the app.
4. Alert tone to notify call recordings
Call recording feature is quite old, but what's new is its ability to notify all parties whenever a conversation is being recorded.
Once the call recording starts, the system will play a tone at an interval of 15 seconds to alert the other party.
5. Lockdown mode
The latest addition to the power menu is the "Enter Lockdown" button. It's one of the top features of Android P that further boosts the security of your phone.
Once enabled, it disables fingerprint unlocking option which can be quite useful in case any assailant force you or trick you into unlocking your phone.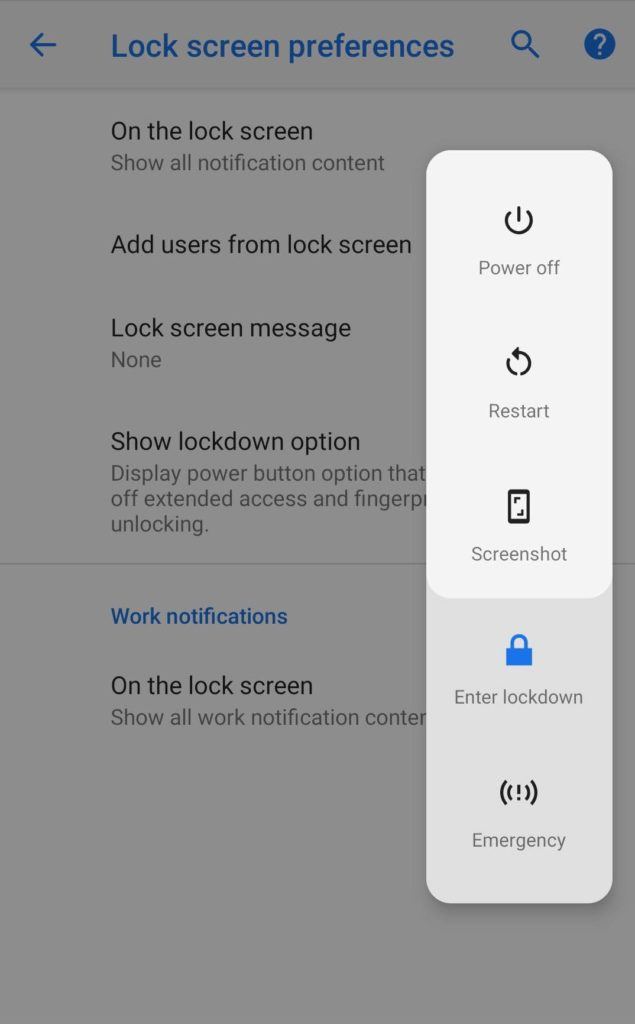 After launching the mode, you will be required to insert your PIN, password or pattern for any other unlock methods to work again.
6. Default HTTPS for apps
Internet browsing works on two protocols: HTTP and HTTPS, with a major difference being the encryption feature of the latter.
But all apps do not use the secure protocol for communication which can expose you to potential dangers.
Now all apps built for Android P will communicate data via HTTPS by default. This will ensure the safety of your data while sending or receiving data from the app's servers.
7. Autofill in browsers
Android Oreo's implementation of Autofill has one limitation, and that is its inability to work with browsers.
But the latest version deals with this limitation by allowing password managers to populate the login credentials into browsers.
8. Ambient Display for Battery Percentage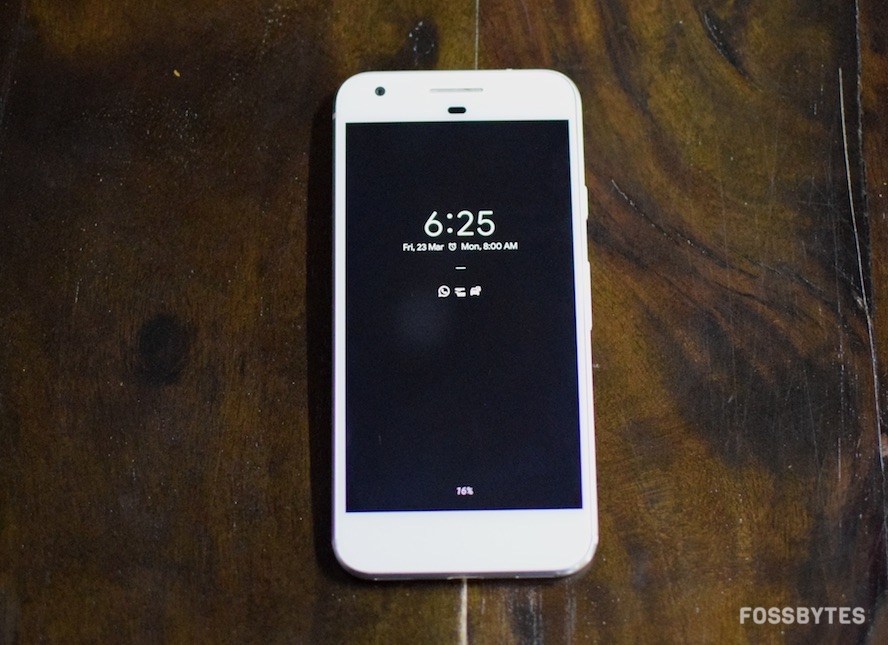 Ambient Display was originally designed to show the current time and notifications on the phone without having to go to the home screen.
A much-requested feature to show battery charge percentage on the Ambient Display has now been added to Android P.
9. ART improvements
New changes in the OS will improve the Android Runtime (ART) resulting in a significant performance and efficiency boosts.
This means that apps can launch faster and consume less memory on your phone with Android P.
10. Improvement in messaging apps
Messaging apps have received several improvements to enhance the overall experience.
A notable feature is a provision for developers to make images viewable in the notification shade for all incoming messages.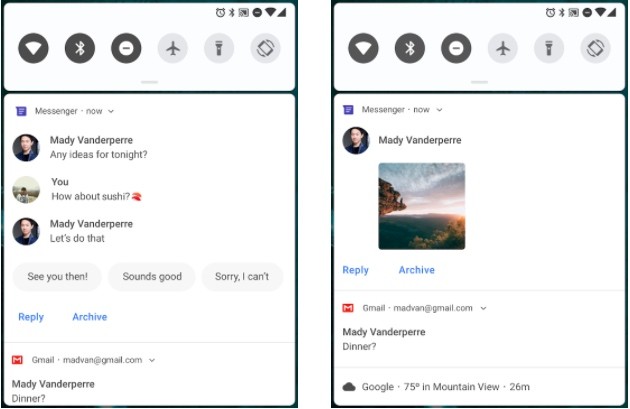 It also has Smart Reply which permits you to reply quickly to messages through the notification shade and use suggested responses that are created by analysis of the incoming messages.
11. Smarter Notification Channels
The notification channels on Android P have been revamped and it allows you to block the certain type of notifications from appearing on your phone.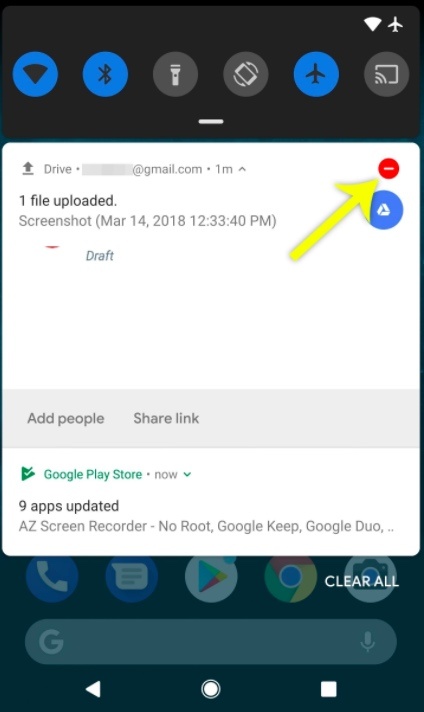 The type of notifications you usually dismiss will now display a red minus sign. Tapping on it will display a message asking if you would like to "Stop notifications" or "Keep showing" them.
12. An easier way to take screenshots and edit them
We have already discussed the how to use Android P's new screenshot editor where you can edit and share your screenshots immediately after taking them.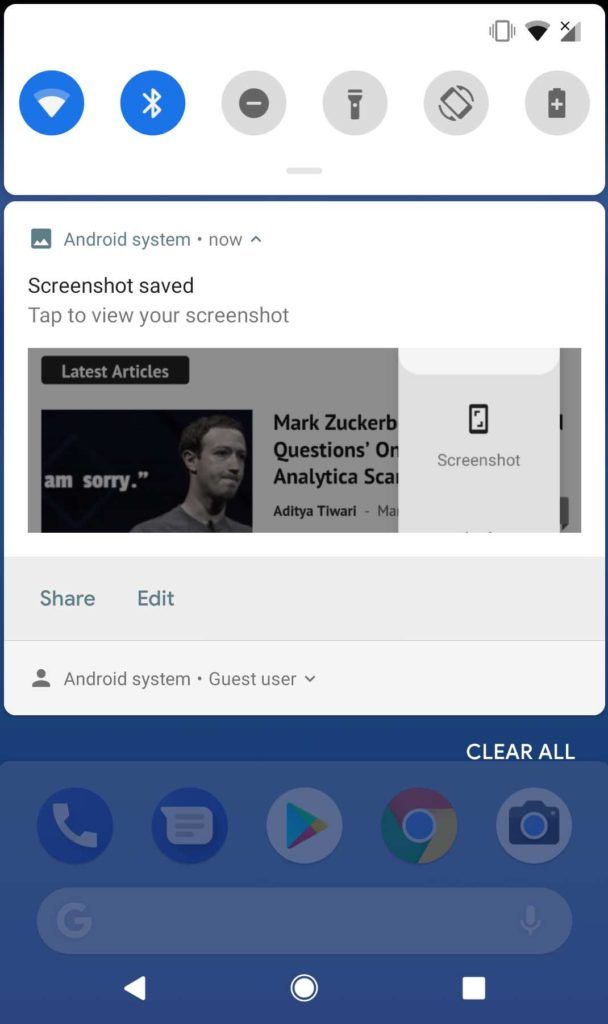 Another handy Android 9.0 feature is the addition of screenshot button to the power menu. Thanks to this feature, you no longer have to struggle with the power + volume down buttons.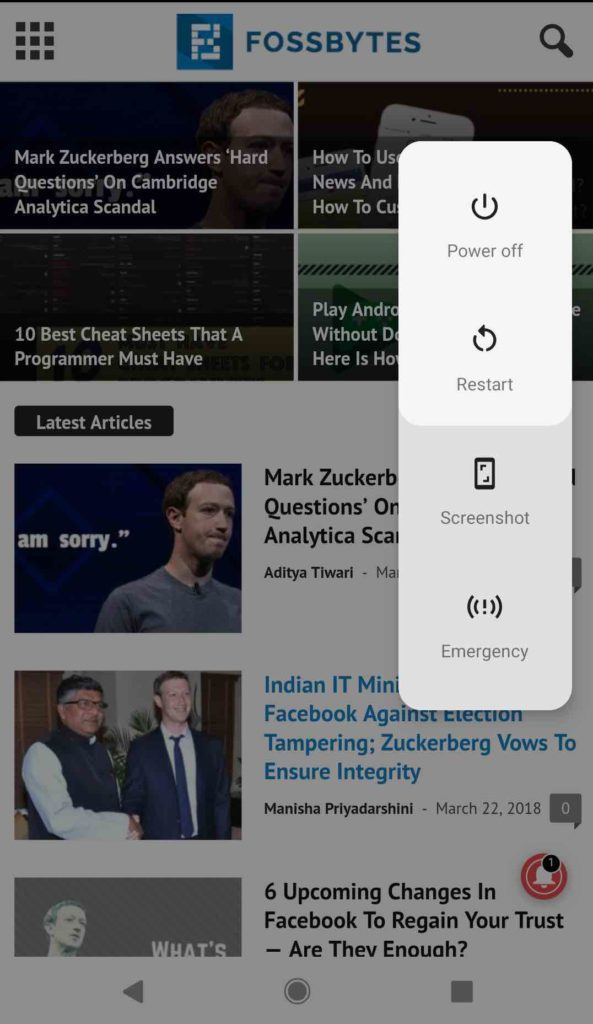 13. Auto-Rotate Button
The addition of new contextually aware button makes auto-rotation a whole lot easier and is one of the incredibly handy Android features I have seen.
An auto-rotate button appears in the navigation bar when your phone is rotated to an orientation it's not currently locked to.
Suppose your device is locked to portrait mode and you try to rotate it to landscape, a button appears.
Tapping this button will lock your phone to landscape until you are using that app or you rotate the phone back to portrait mode and touch the button again.