The Macan S comes with a 3.0-liter V6 turbocharger with 354 horsepower. It accelerates from 0-100 km/h to 5.1 seconds, while the maximum speed is 254 km/h.
The smallest and cheapest SUV Porsche is built on the same platform as the Audi Q5, which is longer and wider.
Although Porsche never preferred diesel, three major models Macan, Cayenne and Panamera traditionally had this type of engine.
Due to enhanced environmental regulations, Porsche first released the 3.0 V6 version from previous versions of Cayenne and Macan.
2019 Porsche Macan S Sport
After the diesel was not introduced even in Macan's re-designed version, and now on the Mac S, we can begin to get used to Porsche without diesel.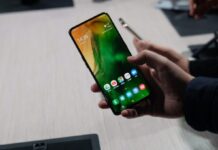 Samsung unveiled the Galaxy A80, the newest mid-range smartphone with a camera that is not only used as the rear camera but also as...