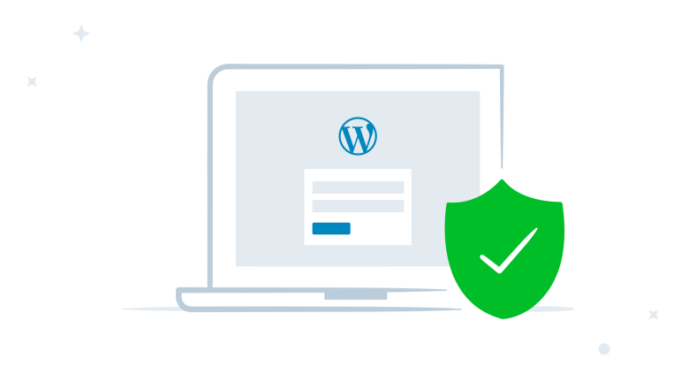 Founded in 2003, WordPress is a content management system based on PHP and MySQL. With the advent of digitalization, more and more businesses are being exported online, and WordPress is used by millions of companies across the world.
Looking at the exact numbers, WordPress is used by more than 60 million websites, including a majority of the top 10 million websites. As of April 2019, this is the most popular website management system currently in use.
However, despite its many benefits, like all other applications, WordPress may fall prey to security attacks as well.
According to a study, 70% of WordPress installations are vulnerable to hacking attacks.
A Few Security Tips Can Help You Keep Your Platform Safe and Secure.
Let's have a look at some of them:
1. 2-Factor Secure Login
2-factor authentication is a secure way to login to your WordPress account. By this method, you need to log in by entering your credentials simultaneously in 2 devices to access your WordPress account.
Whenever you want to log in to your account, you receive a verification alert on a second device, which may be your smartphone or tablet, and unless you verify the same, you cannot log in to your account.
It can be very personalized according to the way you want to use it. Despite being very simple to set it up, it can be very effective, since hacking through 2 checkpoints at the same time is exponentially more difficult.
2. Keep WordPress Updated
Many users ignore this simple act and tend to downplay the importance of keeping your WordPress updated.
However, the updates are provided by the company to bridge any potential security flaws in the existing software.
The updates are meant to make your WordPress version more secure and weed out vulnerabilities. These drawbacks may cause potential data theft and security breaches.
That is why it is of utmost importance to not only keep your WordPress version updated but also keep your plugins and themes up to date.
The process is decidedly simple and can be achieved at the click of a button. It can save you a whole lot of trouble in case of a security breach later.
3. Install SSL Certification
An SSL certification of your website is a symbol of security and allows a secure connection between a server and a web browser (domain).
Linking your WordPress account with an SSL certification is tantamount to declaring 100% protection from potential data theft and compromise.
This certification helps build up customer trust and delineates all-round protection of your sensitive data, which sustains build customer relationship, boost business, and safeguard data privacy.
In this regard, Multi-domain SSL certificates and Wildcard SSL certificates are even more useful, and it can protect your WordPress domain as well as any subdomain you might have.
An SSL certification like Comodo and RapidSSL represents safety, reliability, and integrity and is a great addition to enhance the security of your WordPress.
4. Limit Number of Login Attempts
A massive number of hacking instances are based on the empirical trial-and-error method. When a hacker attempts to log in to your account, they need several attempts before they manage to break in. That's why limiting the number of attempts to correctly enter your login credentials is a crucial step in ensuring your WordPress account is secure.
You can easily do this by using one of the free plugins available on the internet to specifically reduce the number of login attempts.
For example, WP Limit Login Attempts is a plugin that limits the number of logins attempts by temporarily blocking the IP address.
5. IP Whitelisting
IP Whitelisting is a perfect example of the time-honored adage, 'Better safe than sorry.'
If your WordPress account is used by individuals other than yourself, you could draw up a list of all users, and indulge in whitelisting their credentials, and grant access from an IP address.
By this process, you ensure that only whitelisted users are logging on from an IP address, which may be your office desktop or laptop. The chances of a security breach of your WordPress account in such a scenario drastically diminishes.
Although you will not be able to access the WordPress account from a non-whitelisted IP address, it holds true in case of any unauthorized login attempts as well, which are simply rejected by your account.
6. Regularly Update Your Passwords
This is also a very under-rated activity when it comes to ensuring data security. However, if not taken seriously, passwords can pose security issues.
One of the first mistakes people make is to use the same password for multiple accounts. This drastically and exponentially increases your chances of being hacked.
A good practice is to change passwords every 8-12 weeks. On top of that, avoid reusing your passwords or making them simple to decide.
Ideally, a secure password should consist of a combination of characters, symbols, and numbers.
This combination makes it infinitely more difficult for a hacker to break into your WordPress account.
Also, make sure to never save your password on devices that are not yours. You never know when they can be used against you at a later stage.
7. Conduct Security Scans
Humans can only do so much. You may not always be able to identify if something is wrong with your WordPress account until it's too late.
That's why it's a great idea to perform security scans of your WordPress account regularly. They are highly targeted and specialized plugins and software, that are designed to identify any breach on your account and remove them immediately.
Many such security scans are also found online for free. One such security scan found online is Hacker Target, a paid security scan which also offers limited free scanning.
These security scans offer a wide range of services like checking application security, plugins, the hosting environment, and the webserver.
Winding-Up
WordPress is one of the most popular and useful blogging software available in the market right now.
Being a framework for web development, ensuring its security is of utmost importance to the millions of users worldwide.
With the threats of data security becoming more malicious day by day – not taking the ideal security precautions is not an option anymore.
neOadviser
Your car's radiator has an essential job. It keeps the engine from overheating by pumping coolant through it. This coolant receives heat and moves...