Weddings are a special moment in every couple's relationship that marks the next step in their commitment to one another. However, this special moment can get pricey. The cost of the average wedding today is about $44,000. Couples are always looking for new ways to cut the costs of their wedding without compromising their vision. Wedding receptions can be put together beautifully without breaking the bank. Here are some tips for having a beautiful wedding reception on a budget:
1. Digital Invites and RSVP – The best way to cut costs for a wedding is to choose to go digital with invitations and RSVPs. This is a great way to save on getting printed invitations that guests will likely just throw out anyway. Along with reducing costs on paper and postage for you, they are a much more eco-friendly option. Another great way to save on invitations is to instead choose a ready made design that can be altered rather than paying for a graphic designer to create an original invitation.
2. Weekday Weddings – A key way to reduce wedding reception costs is the date of your wedding. Weekends might seem like a convenient and obvious option for a wedding, but you will greatly save on costs if you choose a date that is on a weekday instead. An evening wedding on a weekday such as a Thursday or Friday will usually have better booking options for venues and vendors will likely charge you a cheaper rate.
3. Buffet or Family Style Food – Catering is another costly expense for a wedding reception. However, serving food family style or having a buffet can help you save instead of having an actual dinner service. This gives guests more flexibility and options with what they want to eat so that no food goes to waste. In this way, you can save costs on waiting staff as well as pay for food in bulk rather than per meal. Another great option is to book food trucks instead of a catering service. This allows guests to order what they would like and is also much cheaper for you.
4. Search Online for Rings – One of the biggest costs of a wedding can often be the wedding rings and wedding jewelry itself. A great way to find affordable jewelry that is still spectacular, is to shop online. For wedding rings and engagement rings, shopping online can bring in rings at a better cost that have better quality diamonds. Wedding jewelry can be found online a bit more affordable as well and if you opt for fashion jewelry instead of fine jewelry you can save some cash but still look fabulous.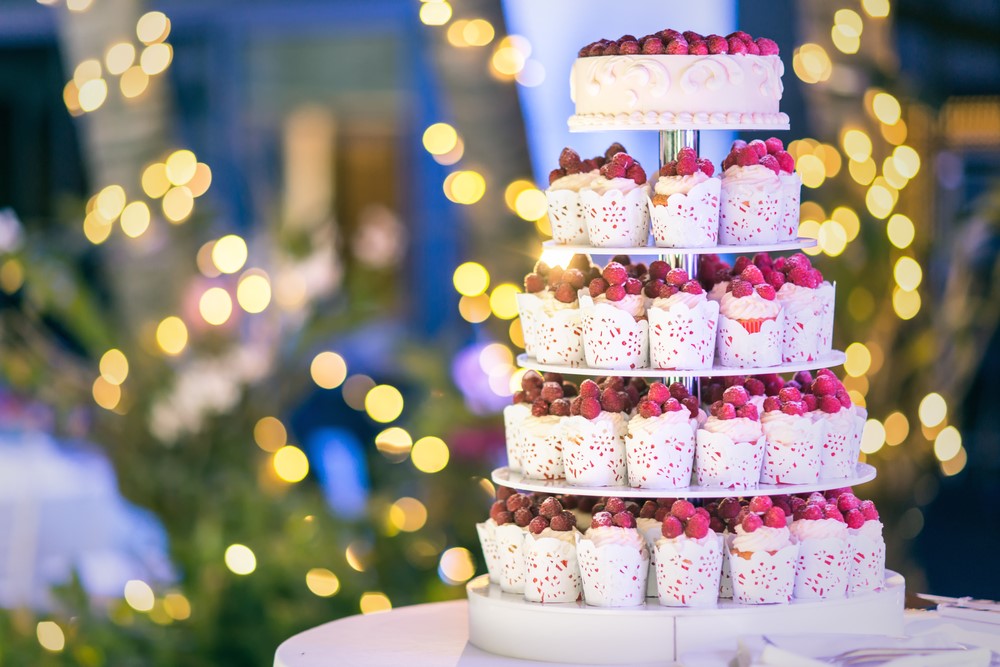 5. Alternative Wedding Cakes– Wedding cakes are another big expense for a wedding. Wedding cakes can costs up to $600 depending on design and size. Instead of ordering a typical tiered wedding cake, you should consider alternative wedding cake Many couples are opting for other types of desserts to serve as their wedding cake such as cupcakes or donuts. This helps to cut costs and adds a unique spin to your reception.
6. Versatile Venues– Traditionally, the wedding ceremony and reception take place in two separate venues. However, as more and more couples are choosing wedding venues other than churches, versatile venues are looking like better and cheaper options. Choose a venue that can be used as both the wedding ceremony and the wedding reception. This helps cut costs by booking only one venue and helps keep other planning aspects and guests' transportation easy. Another great tip for you to save money on your wedding, is to save on your venue's decorations. For example, you can buy linens wholesale and other decor pieces to cut costs.
7. Simple Favors – Wedding favors for guests seem like a small expense but they can add up pretty quickly. Try not to overdo or over think favors. Remember, your guests are there for the experience not the party favors. A great choice for favors is always food or sweets. You can set up a simple candy bar with paper bags from the dollar store that guests can fill up as they leave.
Wedding receptions are a special moment to celebrate your union with your friends and families. While receptions can end up costing a pretty penny, you can save on many aspects of your ceremony by thinking outside of the box. Remember, to prioritize what part of the reception you would want to spend on and which areas you are willing to compromise costs. This can help you create a balanced budget that will result in an unforgettable wedding reception.
Check Next >https://www.neoadviser.com/the-importance-of-word-choice-in-writing/