The summer has still to come, but Alessandra Ambrosio seems to be more than ready for the hot season.
In recent photos she has introduced her new line of bathrobes.
This weekend, Victoria Secret's 37-year-old star has made a photographic set under the sunset where it shines.
Apparently the time has not passed for her, though mother of two children, she keeps the perfect lines.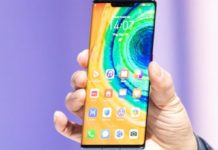 Huawei's party may have been marred by US sanctions, but the company still had something to show at its Mate 30 launch event, or...