American Muscle, On and Off the Road
Americans certainly love big, powerful automobiles and, with a wide range of performance cars from Dodge and Chevrolet, there are plenty produced locally. Many of these have evolved from classic muscle cars, tastefully modernized with sleeker curves, up-to-date tech, and even turbocharged engines. But it's not just tarmac-eating pony cars that are winning hearts in the USA – pickup trucks and sport utility vehicles are just popular, if not more so. And these, too, can be sourced locally, with top brands including the likes of Ford and Jeep.
If you want to venture off the beaten path, you need a car you can rely on. An urbanite crossover simply won't do. That's where the bold, four-wheel-drive SUVs come in. These rugged adventurers are designed with one thing in mind – to challenge the unknown and come out on top. Sturdy construction, finely tuned off-road suspensions, and a selection of reliable engine options, which usually include a diesel powertrain or two, help seat these trailblazers apart from their milquetoast counterparts
Kings and Queens of the road
While there are plenty of high-performance vehicles to choose from, few exude the raw power of a traditionally-styled American muscle car. Sure, the performance of these machines can be matched, and often exceeded, by the Europeans, but there is a lot more to loving your ride than just going fast. Here are some of the top US speedsters and just a few salient points that will prove to you how special they are.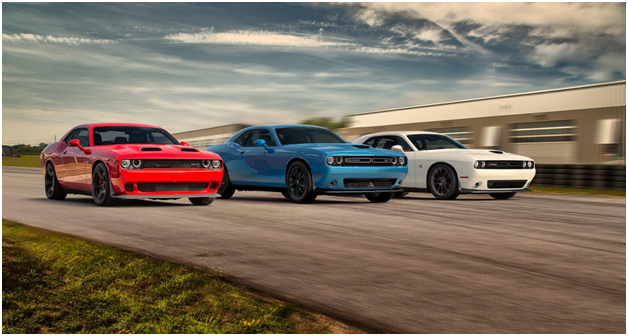 Dodge Challenger
It is quite literally impossible to talk American muscle without the conversation eventually revolving around the Dodge Challenger coupe. Though updated for the modern age, this gorgeous beast still boasts the charm of a classic pony car. And, though it may primarily be a performance machine, several of the variants are also offered in four-door configurations. This means that you can have your fun and still be a responsible adult and/or parent.
The entry point to this range of burly automobiles is the SXT. And while its Pentastar V6 is certainly not lacking with more than 300 horsepower and 268 lb-ft of torque, it is a far cry from what the top-tier models are sporting. It won't be winning any drag races with a 0-60 mph time of around 6.5 seconds, but it is a good compromise between performance, practicality, and affordability. The base model will only set you back just upwards of $28,000.
But if your need for speed is unquenchable, then the SRT Hellcat is the only way to go. It certainly looks the part, with blocky dimensions, bold LED lighting, an aggressive grille, and a dual-scoop hood. Under this rests a truly monstrous HEMI 6.2L supercharged V8 that throws out up to 797 hp and 707 lb-ft in the Redeye variant, allowing the low-rider to sprint up to 60 mph in just 3.7 seconds. Unlike the more tame SXT, the Hellcat offers a choice between an automatic transmission or a manual, so that you can truly immerse yourself in the driving experience.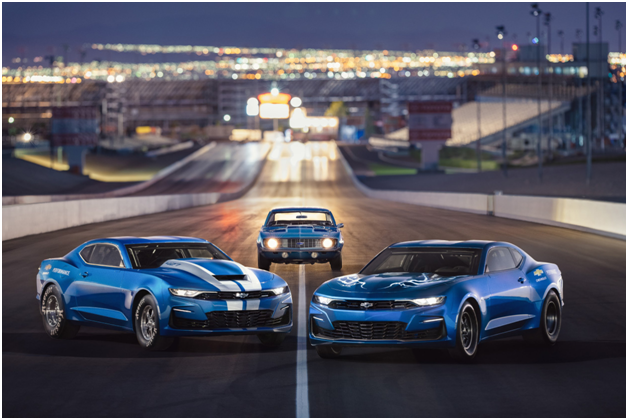 Chevrolet Camaro
Chevy has its finger in a lot of pies, from the ponderous Colorado pickup to the racetrack regular Corvette ZR1, and even an EV option in the form of the Bolt. However, it is the Camaro that most car aficionados will be most familiar with. Available in its standard, more affordable guise or as a more premium and higher-powered ZL1 model, it is the long-standing rival to the Dodge Challenger and the Ford Mustang.
The standard Camaro is very reasonably priced at just $25k, and you get a lot of bang for your buck. A choice of three different powertrains is offered, from a 275-hp four-cylinder through to a bullish 455-hp V8. Similarly, buyers can choose between the six-speed manual gearbox or one of two automatic options. The interior is a little low-budget, though, and cargo space is severely limited in comparison to what competitors like the Challenger supply.
Competing with the Hellcat, the Camaro ZL1 relies on a turbocharged V8 that directs 650 hp and 650 lb-ft to the rear wheels. This kick in the pants gets the sexy Chevy going from 0-60 mph in 3.5 seconds, just a smidge faster than the Dodge. But where it really shines is its handling. Most pony cars pride themselves on their straight-line performance but the Camaro is more playful. It handles corners with aplomb, though it may not be quite as graceful as sports cars from across the pond.
A few other worthy mentions include:
Dodge Charger
Cadillac CTS
Ford Mustang
A Different Kind of Muscle
It takes a certain kind of vehicle to venture off the beaten path with confidence, and it isn't just about size or power – muscle also comes in the form of utility vehicles. And there are a lot of SUV models on the market right now, but the number of those with genuine off-roading capability is surprisingly limited. Most have been tamed by modern living to perform better around the city as practical family haulers or daily runabouts. But hope is not lost; there are still a few names you can count on to have your back out in the wild.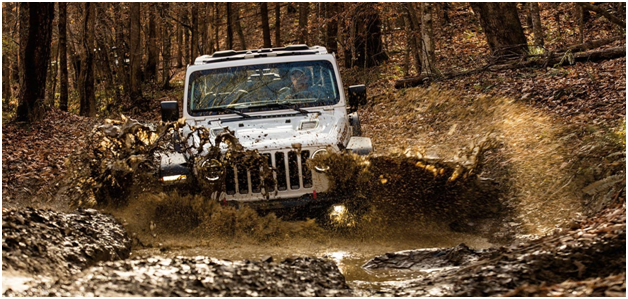 Jeep Wrangler
There is certainly no mistaking the rugged off-roading nature of a Jeep for a city slicker. Its blocky design and chunky bumpers practically scream machismo and ruggedness. It is not a particularly large vehicle though, with passengers in the back seat needing to squeeze in a little to fit. But this isn't necessarily a bad thing. Smaller dimensions mean less weight, and less burden on the powertrain, of which there are several options. Each are equally capable, though, but the best fuel economy comes from the turbo diesel engine, which returns 22/24/23 mpg.
An old-school body-on-frame design along with lockable differentials and its legendary Trail Rated capability ensure this compact SUV handle any terrain with ease. However, don't expect too much in the way of modern tech or comfort features inside. The Wrangler feels about as old as it looks. Still, some amenities can be optioned if you are willing to spend more, but this increases the price quite a bit above the attractive starting MSRP of around $28,200.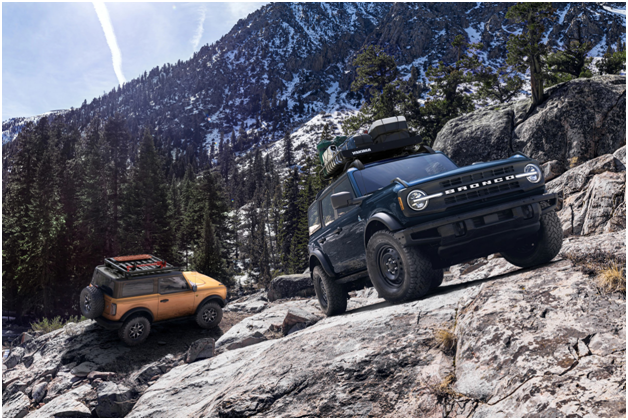 Ford Bronco
A nameplate that many of us had forgotten completely, the Bronco has finally made a return to the US market, and quite a triumphant one at that. More than capable of overcoming anything mother nature can throw at it, the base model can be specced with loads of optional equipment to make it one of the most capable off-roaders currently available.
Despite being brand new for 2021, the Bronco looks surprisingly retro with its chunky aesthetic, jutting bumpers, and enormous wheel arches that can house gigantic 35-inch tires. It is presented in two- and four-door configurations, and boasts an impressive ground clearance of 11.6-inches. Other features that assist with off-roading include an advanced 4×4 drivetrain system and a two-speed electromechanical transfer case. There is also the patented Ford Terrain Management System with multiple different driving modes to choose from.
But, while the Bronco may look like a blast from the past, it is actually a very modern vehicle. Inside, it gets comfortable seats with a variety of upholstery options, as well as a large 12-inch touchscreen interface with all the latest applications from the Sync4 suite. A nifty extra feature is a dedicated off-road navigation function, which works alongside the standard app to keep you from getting too turned around while you're out having fun.
A few other worthy mentions in this segment include:
Jeep Grand Cherokee
Ford Expedition
Chevrolet Tahoe