Ferrari GTC4 Luxury is the latest specimen that has passed in the hands of Lapo Elkann, the creative director of Garage Italia.
The Famous red car, Lapo has turned it to blue, his favorite color.
"The blue is my color and my Italy color. Ferrari is one of the most famous Italian emblems in the world and with this model we have made fashion, design and art together with the world of automobiles, "said Elkann.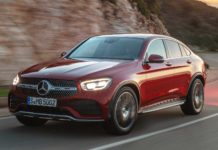 The GLC-Class Coupe has been updated, but has undergone some minor changes, making it almost impossible to distinguish.In the exterior, the GLC Coupe's Grille...