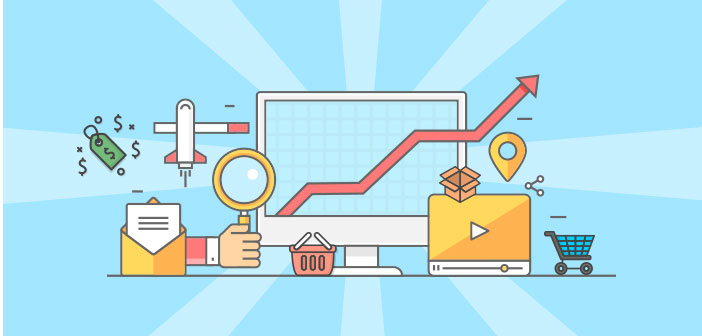 With the possibility to get online via smart devices such as phones, tablets, and even laptops wherever there's Wi-Fi, browsing the Internet has become an essential part of everyday life. This particular convenience allows the users to quickly check their mail and social media, but also visit different websites and even make purchases online. That said, eCommerce businesses have to make the most out of digital marketing in order to stay relevant and attractive to their target audience. In that respect, real-time marketing may as well be a crucial part of every eCommerce marketing strategy in this day and age.
[td_block_ad_box spot_id="custom_ad_2″ tdc_css=""]
Real-time marketing: what is it?
Essentially, real-time marketing is a type of digital marketing tactic which utilizes real-time data based on continuous analysis of customer behavior and launched marketing campaigns. After all, it's a lot more beneficial to apply the necessary changes as the campaign is still going on than to wait for the campaign to be over in order to check potential conversion improvements only then.
Keep in mind that collecting real-time data is a long-term and continuous process. There will always exist some type of lag between the information you get from the analytics and the action you take in order to improve your eCommerce marketing campaigns. Still, regardless of the said lag, eCommerce owners are bound to note a conversion increase if they take the time to adjust and improve their campaigns and offers accordingly.
Use the available tools
You don't have to track real-time data manually. Thanks to the available online tools, it's simple enough to gather the most important info you need (in real time) about your customer behavior, campaign success, devices used to access your online store, abandoned carts, best sales channels, and so on. What's more, with smart additions such as an efficient CRO tool, you can quickly and easily set up your social proof area on your eCommerce website, thus improving your brand credibility and increasing conversions automatically.
When you make the most out of available technology for digital real-time marketing, it becomes rather effortless to quickly spot potential room for improvement in your campaign, be it design, choice of colors, wording, the type of offers, the images you use, etc.
Track only the most important metrics
Once you venture into real-time marketing and get familiar with real-time data, you'll notice that there are plenty of different data (metrics) that you can track and then use the results to improve your marketing campaign and boost eCommerce conversions. However, too many possibilities can also turn into a double-edged sword.
After all, if you focus on one too many metrics to track and measure, you'll end up with a ton of data that might only confuse you more and make it difficult to apply the changes properly. That said, it's always better to discuss your marketing plan with the industry professionals so that you can focus your real-time data tracking attention to only those metrics that will truly prove to be valuable for your campaign and eCommerce business.
Personalize your marketing approach
What real-marketing and collecting real-time data give you is the ability to approach your existing and potential customers in a more personal manner. As you gather information about customer behavior, you'll find that you have more options to customize and improve your lead-generating campaigns, consequently boosting the overall conversion rate. By doing so, you'll automatically improve your customer service, which will provide you with the better social proof mentioned previously. As you can see, doing real-marketing by the book is a cycle that may require putting some effort into various aspects of your marketing campaign, but that effort will undoubtedly prove beneficial with a generous ROI.
Don't try to rush things
Even though you're dealing with real-time marketing and real-time data, sometimes it's better to be patient than to quickly jump on whatever change suggestion your initial assessments provide. This is especially true for longer marketing campaigns, which may take a couple of days to show truly accurate results. That said, you should definitely track your selected metrics from the first minute, but when it comes to incorporating the changes, give yourself and your marketers enough time to analyze the end benefits in order to make the best decision for your eCommerce business and the ultimate goal of boosting conversions.
When you use real-time marketing in your eCommerce campaigns, you have a chance to create offers and reach out to customers in the most attractive and effective way. Make it a point to utilize the right tools and valuable metrics in order to make the best changes, which will boost eCommerce conversions accordingly.
neoAdviser
[td_block_11 category_id="3″ limit="1″ td_filter_default_txt="" tdc_css=""][td_block_ad_box spot_id="custom_ad_3″ tdc_css=""]