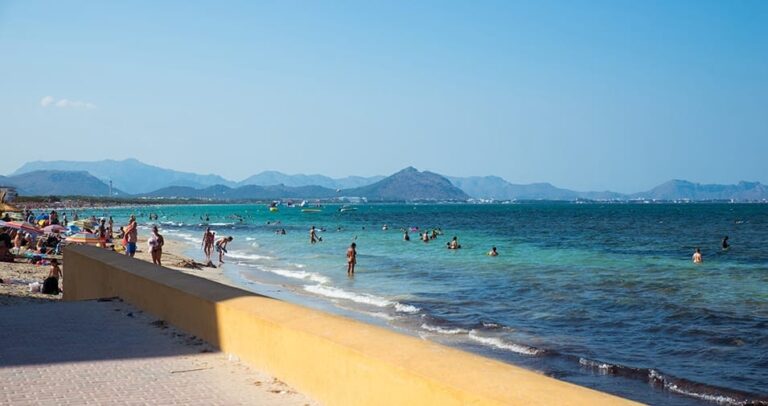 Can Picafort is a village on the north coast of the island situated on the Bay of Alcudia, about 60 kilometres of Palma de Mallorca. This resort is part of the municipal district of Santa Margalida, which is about 10 kilometres inland. It started in the beginning of 20 th century, when wealthy people from around built there first houses here. Nowadays many Germans like to visit the village, you will notice this when you get into bars.
Best property on Mallorca – https://yes-mallorca-property.com/
The village is also called also Jeroni Fuster, how is it possible before it was the popular resort.
Now it is best known for its golden sand and crystal clear water. The beaches stretch for 8.5 kilometres, so if you will be able to find a less crowded part on the beach. The most famous beach is Son Baulo, it is in Can Picafort. Along the beach the 1.3 kilometre stretch has a promenade, this traffic free so ideal for taking a stroll and watch the sun go down.
Can Picafort is next to the national park La Albufera, so if you want to get away from the beach for a while it is always worth while to go inland or to La Albufera.
Local feasts and traditions
In Spain people love fiesta , Mallorca and C an Picafort are no exception to this. It starts in January with feast of Sant Antonio , patron of the animals
In February carnival , this is largely celebrated in Mallorca. It will most certainly be worthwhile to watch one of the parades in one of the towns.
March/April Semana Santa is celebrated, several processions are held in the different towns of the island.
In July just like in many coastal areas of Spain, Virgen del Carmen is celebrated. This is done throughout the Balearic Islands, with parades and blessing the fishing boats.
On July 20 th is Feast Santa Margadila . During this five day festival games, sport and many other activities are organised. It is said to one of the oldest festivals of Mallorca, dating back to 1405.
15 th August is the feast of the Duck. This is a prohibited, but still attracts 3,000 people. The minister of Agriculture and Fishing always warn not to do this feast. The municipality always reserves money to pay the fine of 3,000 Euros.
The first weekend of September is Feast of Santa Catalina Tomas . Besides the traditional parades, devils will run through the streets and wake up the villagers.
Check this –> https://www.neoadviser.com/chrome-browser-has-a-critical-security-issue/