Trying to watch It's Always Sunny in Philadelphia on Netflix, but keep seeing the proxy error?
That's very frustrating, we know – especially since the error can show up while you're in the middle of an episode!
So how do you get rid of it? Well, Netflix recommends you disconnect from the VPN. Obviously, that's not a good solution since you can't watch IASIP without it.
Does that mean you're out of options?
Not at all – we'll show you how to quickly bypass this error in this article. Just try these six tips:
1. Use a Different Server
Netflix probably blocked the IP of the server you're currently using. It happens, so try using a different one. It goes without saying that it should be in the same country. A good VPN should have more than one server in the UK (where IASIP is available on Netflix).
If the VPN has dedicated Netflix servers, use them instead of regular servers. They probably refresh their IPs more often, so Netflix is less likely to detect and block them.
Also, ask your VPN provider's support team which server you need to use to unblock Netflix UK. They probably keep that information secret to avoid getting the server (or servers) that actually works blacklisted.
2. Update the VPN App
Keep seeing a notification telling you to update to the new app version? You should probably do it because there's a chance that's why Netflix can detect your real IP.
We can't say for sure, but we believe that outdated VPN apps can leak your geo-location. Or maybe they weren't able to refresh the servers' IPs yet, so they keep using the old blacklisted ones.
Not to mention that using an outdated VPN app is dangerous. Unpatched vulnerabilities could put your data at risk!
3. Use Your Browser's Incognito/Private Mode
Tracking cookies can sometimes interfere with your Netflix browsing. Basically, they tell Netflix you're from a region that doesn't match your IP address.
For example, let's say you accepted tracking cookies from a site you browsed with your regular IP that's from Austria. You then connect to Netflix via a UK VPN server, so the site sees you have a British IP.
Well, here's the problem – the tracking cookies might tell Netflix that you're from Austria. And that information conflicts with your current IP which tells Netflix you're from the UK. The site probably has automated scripts that assume you're using a VPN for these situations. So, you end up seeing the proxy error.
That's why we recommend unblocking Netflix with a VPN through your browser's incognito/private mode. That way, there are no tracking cookies that could compromise your geo-location.
4. Clear Your Browser's Cookies & Cache
Don't want to use incognito/private mode?
That's okay. But in that case, you should clear your browser cookies and cache before accessing Netflix with a VPN. You don't want tracking cookies getting in the way of your fun, do you?
5. Restart Your VPN Connection/App/Device
This solution wasn't effective for us, but we saw people on Reddit saying it worked. Also, some VPN support reps have recommended it too.
Like the title says, just restart your VPN connection first. If that doesn't work, restart the VPN app. And if that doesn't work, restart your device.
6. Get a Dedicated IP Address
Normally, VPN users share an IP. That's a problem because Netflix will see tons of people signing in to their accounts using the same IP address. It doesn't take a rocket scientist to realize that means they're all using a VPN.
With a dedicated IP, you're the only one using it. So you're less likely to get in trouble. If you can use a residential IP, even better. It will look like you're connecting from a residential home instead of a data center.
Just keep in mind that most providers will charge extra for a dedicated IP. As far as we know, only PrivateVPN offers dedicated IPs free of charge. To get one, you have to connect via OpenVPN TUN + UDP + 1194 with the following locations:
Sweden
Germany (Frankfurt 1)
Norway
Netherlands 1
Ukraine
Switzerland
UK – London 2 (the one you should use to watch IASIP)
France – Paris
USA – Buffalo and Los Angeles
Nothing Worked? Try a Better VPN
If you weren't able to get rid of the proxy error with any of those tips, it might just mean that your VPN just can't unblock Netflix. The provider likely doesn't refresh the IPs too often, so Netflix easily blocks them.
In our tests these VPNs were always able to unblock IASIP on Netflix:
ExpressVPN
NordVPN
PrivateVPN
Surfshark
Here's a screenshot of us watching an episode of IASIP while connected to an ExpressVPN server as proof.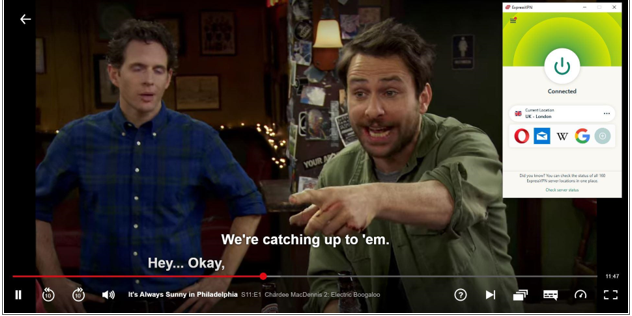 Netflix Proxy Error FAQs
These are the most common questions we got about the Netflix proxy error. If you have more, just leave them in the comments at the end of this article.
How Does Netflix Know You're Using a VPN?
It's hard to say since Netflix doesn't have an article about this (it wouldn't make sense for them to make that information public, really).
Our guess is that Netflix has access to databases that contain VPN IP addresses. They use automated scripts to detect connections coming from those IP addresses. If they spot any, they block them.
Will Netflix Ban Your Account If You Use a VPN?
No, you don't need to worry about that. The only thing that will happen is you'll see the proxy error if Netflix realizes you're using a VPN.
But we never heard of anyone getting banned for unblocking Netflix titles with VPNs.
How Do You Get Rid of the Netflix Proxy Error?
Please let us know what methods you use. And if you use a VPN that's very good at bypassing Netflix's detection methods, please tell us which one in the comments.