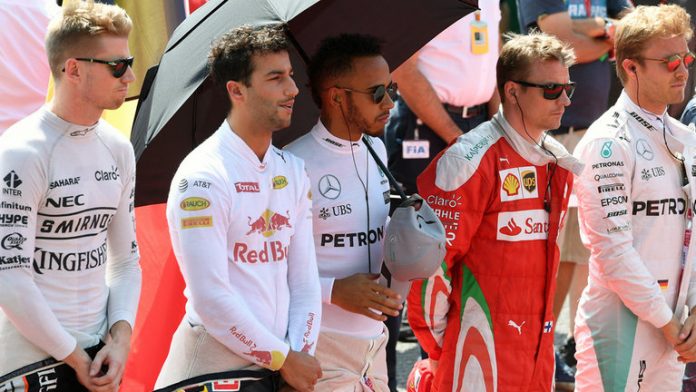 The F1 drivers have had their say on how they would like to see the sport change and improve following Liberty Media's takeover.
After chairman Chase Carey told Sky Sports News that Liberty Media intended to "make Formula 1 everything it can be", a number of radical ideas for improving F1 have been put forward, including a dramatic shake-up of a conventional race weekend that would see more than one grand prix take place.
Sky F1 asked the drivers ahead of this weekend's Singapore GP how they would like to see the sport evolve – and received some very different ideas and solutions…
Jenson Button: "From what I've read, they're very interested in getting a younger fanbase, which I think needs to happen. We've got an 18-year-old racing on the grid and I think the fanbase is mostly 30s and 40s.
"When I was 20 years old, they were 20 and it seems those are the fans that are still in the sport. We've got very limited teenage fans and people in their 20s.
"I think it's also interesting to get interest from people working in the sport and getting younger people in the sport because that's what we need for the future technology.
"There's so much more competition for F1, it's fierce. There used to be five TV channels in the UK and Formula 1 was on one of them and you had four other choices or you go play outside with a football.
"Now there's so much you can do. I think once young people get their teeth into the sport and see how technically advanced it is, and exciting, they're going to stick around because it's an awesome sport."
Sebastian Vettel: "In general as a driver you always want to go faster and drive the most exciting cars, so next year could be a step in that direction.
"I'd like to have double the amount of cylinders in the car, and take off the complicated electrical parts – but I don't think this has anything to do with the owners!"
Nico Rosberg: "I would hope for our sport to reach the people who love it but don't necessarily sit down at specific times to tune in and watch the race, maybe on a beautiful summers day.
"Also, maybe there could be some more overtaking to increase the excitement."
Sergio Perez: "I'd love to see the competition a lot closer in Formula 1, giving the midfield teams the opportunity to be capable of winning a race, fighting for title.
"I think that would be something great, something for the fans, to see a Williams on top in one race, another team in another race. For that you need to change the system, how you divide the money because there's obviously a massive difference. I think that would be a very good thing for the sport."
Daniel Ricciardo: "Saturday races instead of Sunday, maybe?  Then you can plan a bigger night on Saturday – that would be good fun!"