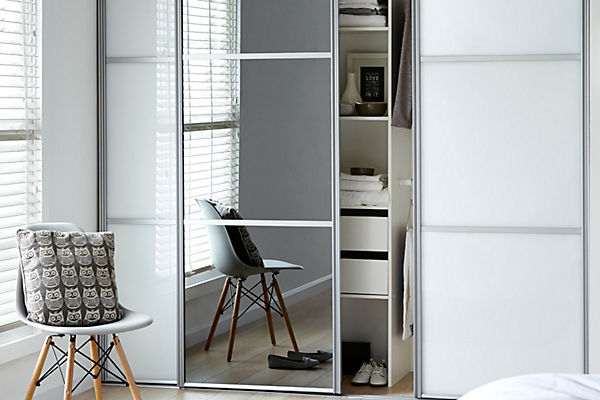 Transform your bedroom into a cozy, stylish, and welcoming room with high quality fitted sliding wardrobes from Metro Wardrobes. Our fitted wardrobes with sliding doors are stunning and elegant.
We combine different styles and finishes to create the ultimate sophistication in the form of a fitted wardrobe. Sliding doors always do wonders especially when you're working with limited space. From contemporary colour finishes to sleek mirrors, sliding door wardrobes always rock. You can never go wrong with them.
Here at Metro Wardrobes, we pride ourselves of having immense experience and skills to custom-make the fitted wardrobe of your choice and preference.
All designs and assembling are done in our London shop; feel free to pass by and place your order.
Custom made fitted wardrobes are made to measure your exact space. Whether you're working with a rectangular space or semi circular space; we can design a perfect made to measure wardrobe with sliding doors for you.
Sit back and watch our skilled craftsmen transforming angled ceilings and tight corners into stunning storage spaces. Our fitted sliding wardrobes include world famous styles like Harpsden Sliding, Mirrored Sliding, Vigo Sliding, High Gloss Sliding, and Matt Finish Sliding.
With Metro Wardrobes, you'll always have numerous styles and designs to pick from.  Like with all other interior designing, you can also try a bit of mixing and matching your sliding door panels.
The doors can be made of sleek mirrors or classic painted wood panels. The colour, texture and finishing can also be mix and matched in order to create a lovely, stunning feel around your room.
            ✓         The greatest misconception some home owners have is that just because they're short on space, then style has to be compromised. But did you know your choice of doors and colour designs can help make a hitherto small space appear larger? Leave it to our professionals to design the perfect fitted wardrobe with sliding doors.
            ✓         We can suggest a perfect style and design for every home, every individual. Want to create a feminine look with your bedroom furniture? Or are looking for a sturdy fitted wardrobe that has a safe you can store and lock your valuables in?
            ✓         Metro Wardrobes will design just that for you, without costing you an arm and a leg. Single panel sliding doors are known for their ability to create a fresh contemporary mood to your bedroom. The full-length panels are subtle and conspicuous all at once.  They can also be used in curved ceilings.
Pick a fitted sliding wardrobe design of your choice'
While fancy and stylish sliding doors are the hallmark of our fitted wardrobes, we also believe that the interior of the wardrobe matters too! In that regard, we take time to beautify the interior with a lovely novanta oak finish.
The drawers and doors have soft close handles and are as durable as can be. No substandard drawer knobs and door handles that will fall off within a month of use.
When designing the interior of your fitted wardrobe, we always strive to offer you premium storage solutions. We do this by creating enclosed storage units at the top, bottom, and sides. This way, you can store your clothes without having to worry about dust and dirt.
Hanging rails are for more than just hanging that trench coat or nicely pressed suit. We use them to create balance and proportionality to the interior of your wardrobe. If the fitted wardrobe with sliding doors also doubles up as a walk in wardrobe, a rail in the middle helps create harmony, balance, and proportionality.
For a more contemporary interior styling, we suggest aluminum systems. The shiny, high quality aluminum is used to encase the entire interior of the wardrobe. It helps create a more modern, somewhat luxurious feel to the wardrobe's interior.
Well illuminated shoe racks are a great way to keep your bedroom clutter free. We can design multiple racks to accommodate your shoe collections.
Metro Wardrobes fitted wardrobes also have a wide range of lighting fixtures for you to pick from. Do you see how lovely and well illuminated clothes look when displayed in a boutique? Or how jewelry and watches are nicely illuminated when on display in glass shelves?
We can replicate that same look in your fitted wardrobe. LED lighting works great for such lighting; it's both stunning and energy efficient.
Why shop at Metro Wardrobes?
            ❖         Metro Wardrobes is where style, durability, and affordability come together. We design and manufacture the highest quality fitted sliding wardrobes for all your need.
            ❖         Each wardrobe has a Guarantee of 10 Years. The fact that everything is done in our London showroom means that you can always pop in to place your order or to make enquiries.
            ❖         You don't have to be a professional interior designer or furniture fanatic. Just let's know what you want and what features you're looking for in your fitted wardrobe.
            ❖         Our craftsmen will work closely with to help design the perfect built to measure wardrobe, with sliding doors of your choice and preference.
            ❖         We'll also help in delivery and installation once we're done manufacturing your fitted wardrobe. Usually, it takes just 14 days from the time of making an order, for us to complete assembling the wardrobe.
            ❖         Our payment methods are flexible; you can stretch your payment mode for up to 12 months, paying something small at the end of every month. There are no added interests charged for such stretched payment modes.
            ❖         For more information on our end of year sales offers, just give us a call on 0203 488 3347. We're located in Unit 29, Hallmark Trading Est., Fourth Way, Wembley, London.
            ❖         We're open 6 days a week from Monday to Saturday during working hours. For all your fitted sliding wardrobe and other bedroom furniture needs, talk to us.
            ❖         We promise you a wonderful shopping experience and 100% customer satisfaction with our products.
Guest post by Zukais Mohammed