The foldable phone of the Samsung Galaxy F, called "Galaxy X", has emerged in new images that show how the future of flexible smartphones may be, complete with the onboard Android Q platform.
New images of potential Samsung Galaxy F come from Letsgodigital, which show images of a possible future. As you can see, the image highlights the foldable phone in tablet format, half-closed, and fully closed.
Samsung has already revealed the main screen for this phone called Infinity Flex Display.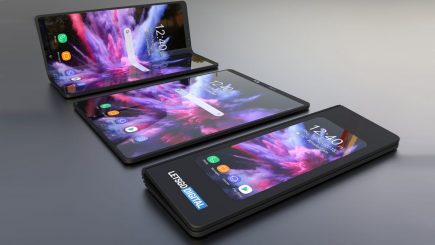 This was officially displayed at the Samsung Developers Conference, though in a dark light that was hard to see. This new show brings that screen to a much clearer light.
The main screen is expected to be a 7.3 inches inch OLED folding OLED screen. When closed, there will be a 4.5 inch OLED on the outside of the phone that it can be used as a phone.
At the same event Samsung also mentioned the new Google Android system and we had a brief glimpse of what it could offer. An entertaining feature showed three open windows side by side on the folded screen.
A video then appeared on the full disclosed screen, then, when it was folded, continued to appear on the smaller screen.
The Samsung Galaxy F is expected to arrive at the beginning of 2019 at a very high price of over $1,000 at least.