Have An Old Roof? Here's What To Do About It
Like most people, you probably don't think much about your roof. You might not even realize that it's aging. But if you're neglecting your roof, you could set yourself up for some big problems. Generally, a roof should last between 15-30 years, depending on the type of shingles and location. So if your roof is older than that and you see signs of wear, consider a replacement. Here are things to do if you have an old roof.
Check for Signs of Damage
Examine your roof for signs of damage, such as missing shingles, curling edges, and other wear and tear. It's also essential to look for any water stains or mold in the attic or on the walls. If you notice any of these issues, it indicates that there is likely a problem with your current roof, and it's time to call a professional. Understand that even if you can't see any visible damage, it doesn't mean that your roof is in good condition – sometimes, the damage isn't apparent until it's too late.
Hire Professional Roofers
Once you've identified an issue with your roof, it's time to find a professional roofing service provider. They will be able to give you an accurate assessment of your current roof and provide recommendations for repair or replacement. Hiring a reputable, experienced roofer who can get the job done right the first time is essential. Be bold, ask for references, and check out reviews online before hiring anyone. When engaging these pro roofers, focus on their reputation, experience, and customer service. Look at the quality of materials they use and the warranties they offer. Go through their website to see the kinds of projects they have worked on, and feel free to ask for a detailed estimate before you make any commitments.
Consider Your Budget
Replacing your roof can be expensive, so it's essential to have a financial plan when making this decision. Talk to professional roofers and get an idea of how much the project will cost. Then weigh the cost of a replacement against the potential long-term costs of not replacing your roof. If you're strapped for cash, look into financing options. Some banks and lenders offer to finance home improvement projects such as roof replacements.
Be Proactive
Periodically inspect your roof for signs of damage and take action right away if you notice anything. This will help extend your roof's life and prevent further damage. It's also essential to keep up with regular maintenance, such as cleaning gutters and trimming trees and bushes. That way, you can be sure that your roof is in top shape and ready to protect your home for many years.
Do the Right Timing for the Replacement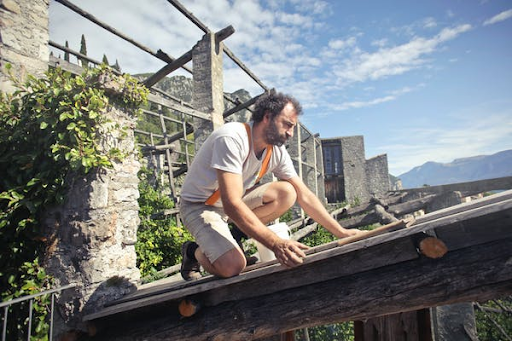 The best time to replace your roof depends on the climate and weather in your area. In most cases, early spring or late summer is the best time to start a roof replacement project. That way, you can avoid any potential storms that may come with winter and fall weather. Besides, it's also vital to ensure that the contractor is experienced in working with the type of roofing material you're getting. Professional contractors should be able to advise you on which materials and installation techniques are best for your home, as well as what time of year would be most appropriate for replacement. If you have an old roof and are wondering what to do about it, use the tips above to help you make the right decision. With proper maintenance and care, you can ensure that your roof will last many years and protect your home from any potential damage.