Whether it's your own amazing creations or quality content from your friends, download videos from Instagram is easy as pie. Just choose one of the methods below and get cracking.
1. Check Your Android File Manager
If you have an Android smartphone, you don't even need to use any fancy websites or third-party apps. Every Instagram video you watch is saved onto your mobile.
To find it, use your phone's file manager to navigate to Data > com.instagram.android > Cache > Videos. Change the extension of one of the files to MP4, and voila – you'll have the video on your phone.
The videos are listed in reverse order; the most recent one you watched will be top of the list.
2. Video Downloader for Instagram
If working with your file manager sounds like too much effort, Android users can find an abundance of specialist apps in the Google Play Store.
One of the most popular is Video Downloader for Instagram. It lets you download or repost videos or from both Instagram and Vine with a single tap. The content is automatically added to your phone's Gallery app.
Since the most recent update, the app can even download the tags that accompany the videos.
Download: Video Downloader for Instagram
Want to download all your Instagram videos? Or maybe every Instagram video you like? You can set up an IFTTT recipe.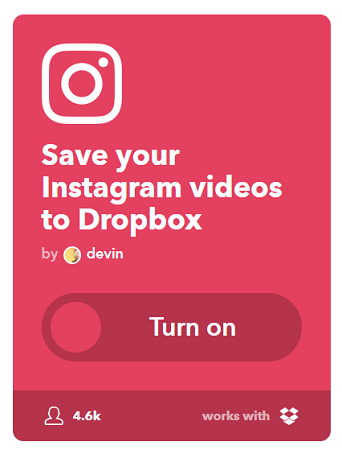 To get the recipe working, you will need an IFTTT account, an Instagram account, and a Dropbox account.
The result is an automatic process in which any Instagram video you add or like is automatically downloaded and added to your chosen Dropbox folder. What could be simpler than that?
PostGraber differs from a lot of the other web-based Instagram downloader tools. Whereas most of them can only grab one piece of content per post, PostGraber can download all the photos and videos that are associated with a single post.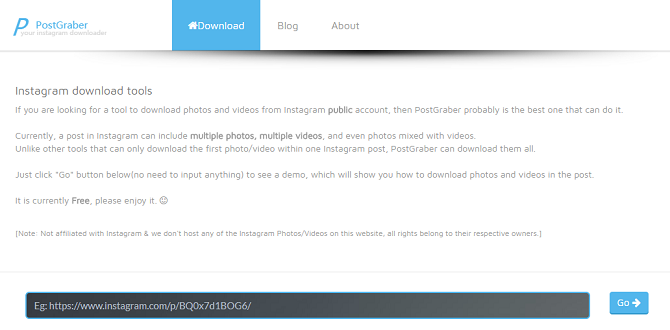 All you need is the URL of the Instagram post you want to download. You can get it on the mobile app by going to … > Copy Link, or from the browser's address bar on the web app.
Paste the URL into the box on the PostGraber website and click Go. The web app will take care of the rest.
(Note: This app only works with public Instagram posts.)
Dredown – which is still sometimes referred to by its previous name, Instadown – is one of the original Instagram video downloader tools, and it's still going strong.

Like PostGraber, all Dredown needs to work is a URL. Paste the URL into the box and click Dredown. Within a few seconds, your browser will start downloading the MP4 file.
Dredown works with more services than just Instagram. You can also use it to download content from YouTube, Facebook, Keek, Twitter, Twitch, Vine, Vimeo, Metacafe, Vevo, Kohtakte, and Tumblr. For all the services it supports, you just need to URL of the post, video, or photo you want to save.
6. Regrammer
Okay, so we've covered Android and web apps. But how do you download Instagram videos if you're an iOS user?
Well, there are several apps in the App Store that profess the ability to download videos – but they're often packed with ads and in-app purchases, and are difficult to use.
One exception is Regrammer. The app is entirely free, and although it's ad-supported, the ads aren't obnoxious and "in your face."

Once again, you'll need the URL of the Instagram video you want to download to make the app work. When you have it, open the Regrammer app, paste in the URL, and click Preview.
On the final page, you can choose to either download the video onto your device or repost it under your own name.
Download: Regrammer
We will leave you with one more web app. It's always sensible to keep a few web apps for downloading Instagram videos in your arsenal, as they will often go down for a couple of days at a time.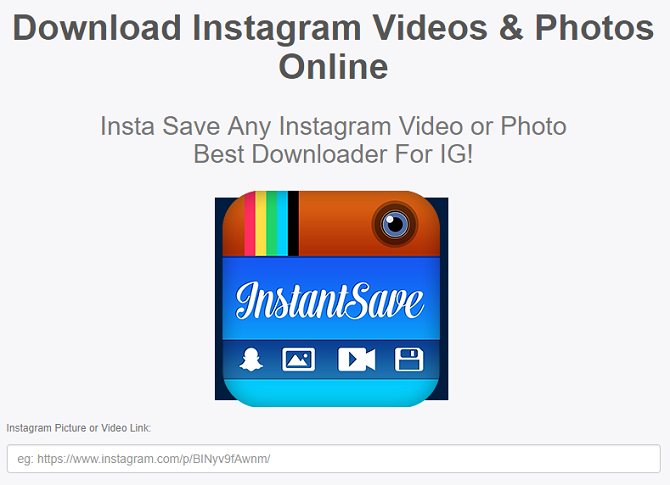 By now, you'll be familiar with the process for using the service. Grab the URL of the video or picture you want, then paste it into the Gramblast web app and click Download.
Depending on the size of the file, you should have a new MP4 on your computer within a matter of seconds. You can use the video to re-upload to a different social media network, or just keep it on your hard drive so you can refer back to it later.
Remember Copyrights
As easy as it is to download videos off Instagram, don't forget that you have no rights over videosyou did not create.
Yes, you can download them. Yes, you can enjoy them. But don't go uploading them as your own, or distributing them in any way, especially without due credit. You wouldn't want the same thing done to you.
Your Favorite Tools for Downloading Instagram Videos?
In this article, we have introduced you to seven different ways to download videos (and pictures) off Instagram.
Do you know of any other ways to download content from the internet? Tell us about your favorite smartphone app and your favorite web app. And we'd also love to know what you do with the videos you download.
As always, you can leave all your tips, suggestions, and feedback in the comments section below. And remember to share this article with other Instagram users on social media.