How To Record, Edit, And Publish A Good Vlog
Having a good vlog can be a great way to share your ideas with the world. It is also an effective way to engage viewers and build relationships with them. However, recording, editing, and publishing a good vlog requires some dedication and planning. It's not as easy as just turning on a camera and pressing the record. Also, it's important to consider the platform you are using and the audience you are targeting. Here are some tips on how to record, edit, and publish a good vlog.
1. Use a voice-over
If you are just starting out with vlogging, it's important to have a clear and coherent voice-over for your videos. This can help guide viewers through the content of your video. It doesn't have to be professional sounding – your voice should sound natural and engaging. According to experts and their review of Speechelo, integrating a voice-over can help to make your vlogs sound more professional and engaging. Also, make sure to keep the audio quality as high as possible. While you don't have to have a professional microphone, you should consider investing in one if you plan to record your vlogs regularly.
2. Do your research
Make sure to do your research before you start recording, editing, or publishing your vlogs. You should try to understand what kind of content is already popular and which topics are trending most on the platform you choose. This will help you tailor your vlogs to your target audience and increase the chances of viral success. Additionally, you should also research what works best when it comes to editing and publishing your vlogs. If you are unsure, there are many online tutorials and guides available to help.
3. Determine your style
When it comes to creating a successful vlog, having a unique style is key. It should be something that reflects your personality and interests but also resonates with the viewers. This will ensure that you can develop an audience for your vlogs and keep them engaged over time. Also, make sure to use visuals as much as possible when recording and editing your videos, as this can help emphasize the points you are making in each video. If you are unsure about which style to use, take the time to watch and analyze the vlogs of others who have achieved success with their content. It's also important to consider the length of your videos, as they should neither be too long nor too short.
4. Utilize social media
Social media can be a great tool to build hype and engagement around your vlogs. You should use it to promote your videos and interact with viewers. Also, you can use social media to reach out to influencers and other content creators that may be willing to collaborate with you on future projects. Additionally, make sure to stay consistent by regularly posting new content on social media – this will help ensure that you gain an audience over time. This is one of the most important steps when it comes to recording, editing, and publishing a good vlog. If you take the time to do your research and develop a unique style that resonates with viewers, you can enjoy success with your vlogs.
5. Edit your footage
Once you have recorded your vlogs, it's time to edit them. This is a crucial step that can help take your vlogs from amateur videos to professional-looking clips. When editing, think about the content and pacing of the vlog. You can use software such as Adobe Premiere Pro or Final Cut Pro for more advanced editing. If you are just starting out, then tools like iMovie may be a better option. Remember to keep your audience in mind when editing your vlogs – edit out any footage that may not resonate with them. It's also important to add transitions and visual effects for a more polished look.
6. Publish on the right platform
Now it's finally time to share your vlogs with the world! There are numerous platforms available today – YouTube, Vimeo, TikTok, and Instagram being some of the most popular ones. Before publishing your vlogs, consider which platform is best suited to your content and audience. Once you have chosen a platform, make sure that you are optimizing your videos for maximum reach. For example, on YouTube, you should use keywords, add a compelling description, and include an attractive thumbnail image. While these steps may seem tedious, they are essential for increasing your vlogs' chances of success.
7. Set a goal
Before you start recording, editing, and publishing your vlogs, it is important to set a goal. This will help you stay motivated and track your progress over time. Ask yourself what kind of impact you want to make with your videos. How often are you going to post them?  Setting a goal will also give you something to strive for as you continue creating content. Additionally, it will help you stay organized and focused on what matters the most to your vlog. If you are not sure how to start, take a look at the goals of other content creators in your niche. 
8. Monitor performance
Once you have published your vlogs, it's important to monitor their performance. You can do this by using various analytics tools or simply by tracking the number of views, likes, and comments. This will help you understand how your content is resonating with viewers and whether or not it needs to be tweaked for better performance. Additionally, pay attention to feedback from viewers – this can help you adjust your content accordingly and make it even more successful. Also, by monitoring performance, you will know when it's time to release new content.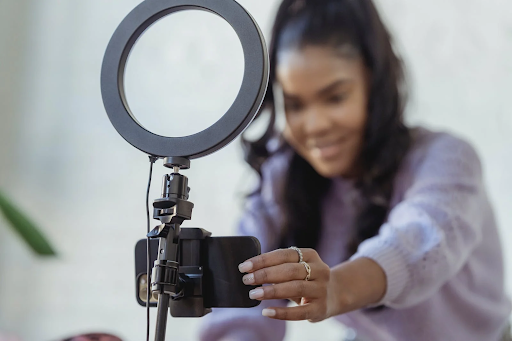 Creating a successful vlog takes time and dedication, but if done right, it can be an incredibly rewarding process. By following these tips on how to record, edit, and publish a good vlog, you will be well on your way to creating engaging content that connects with people all over the world! It's time to start reaching new heights and take your content creation skills to the next level.