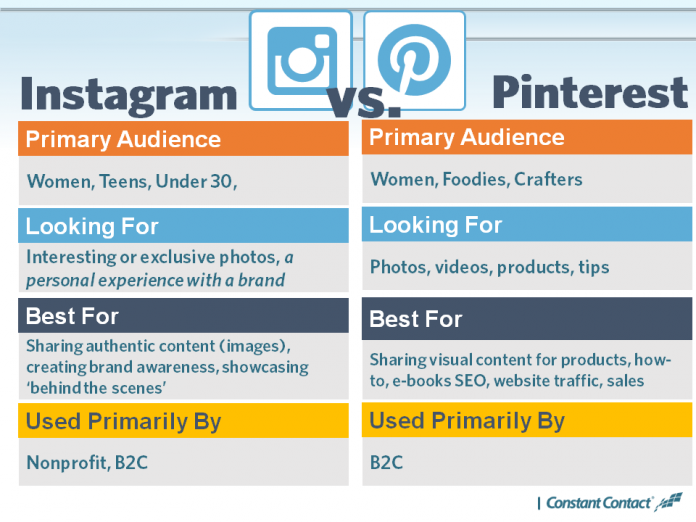 Both brand marketers and customers love social media platforms like Instagram or Pinterest because they are visual oriented and it is relatively easy to communicate with potential customers. It is scientifically established that the human brain can process visual information some 60,000 times faster than information in a textual form.
Moreover, of all the information that reaches the brain around 90% is in the form of images. While this is a great advantage for the visual media, marketers need to appreciate how to make the visual tools work to their advantage and this can be done when they appreciate the similarities and differences between Instagram and Pinterest.
While both Instagram and Pinterest are social networking sites that are image-oriented and users can upload photographs and other visual content for other people to view, the difference really lies in how people use them. Instagram revolves around the concept of people contributing original content and sharing them, while Pinterest is about curating existing web content that you think others will be interested in. When selecting the social media platform, marketers need to understand what content resonates with the target audience and allows them to maximize their brand awareness, user engagement, and feedback so that their business can move forward.
Usage
Instagram is all about sharing with other users a personal perspective or experience by way of clicking photographs and uploading them right from the user's smartphone. Accordingly, brands wishing to have a presence on Instagram should be able to share content that gives their target audiences an authentic and interesting perspective of the business. A favorite ploy of businesses on Instagram is to encourage their customers to share photographs of how value has been added to them by the brand so that it resonates with other users who have the same nascent need. The number of Instagram likesis a good indicator of success.
As opposed to this, Pinterest acts like a search engine that groups content already created by other users for niche audiences with the same interest. Users can search through Pinterest boards for content that specifically appeal to them. While the information need may be catered to, Pinterest lacks the personal experience that Instagram users can share with like-minded users.
Target Audience
One of the biggest advantages of Instagram for marketers is that males and females are almost equally represented. In fact, with around 70% of its users residing outside of the USA, it represents a wonderful opportunity for marketers with a global footprint to connect with customers. Also, marketers can easily engage the younger population as around two-thirds of Instagram's user base is between 18 and 34 years of age.
On the other hand, marketers who do not sell items that ladies are interested in could pay the price of being present on Pinterest as over 70% of its users are women. Pinterest also stands out as the women are inclined to use the platform five times more than men; unarguably the biggest gender difference seen in any social media platform. Although 56% of its users are between 18 and 34 years of age the rest tend to be somewhat older than Instagram users.
Photos
Images are integral to both Instagram and Pinterest, both being visually-oriented social media applications. However, with Instagram, marketers have the ability to completely transform the aesthetics of the images by applying digital filters. This functionality is simply not available on Pinterest because users can only pin photos that are existing or at maximum change their own pictures in third-party applications before pinning them.
Engagement
Many marketers prefer using Instagram because it is easier to engage the attention of customers as the format is much more conversational. Marketers can encourage their customers to contribute both comments and feedback about their experience with the business or the product. This process drives customers closer to the brands. Pinterest fall woefully short in this department.
Conclusion
Marketers wanting to raise their brand awareness or drive sales will do well to put their efforts into creating content for their Instagram accounts, however, if the aim is to increase website traffic, Pinterest could give more value.