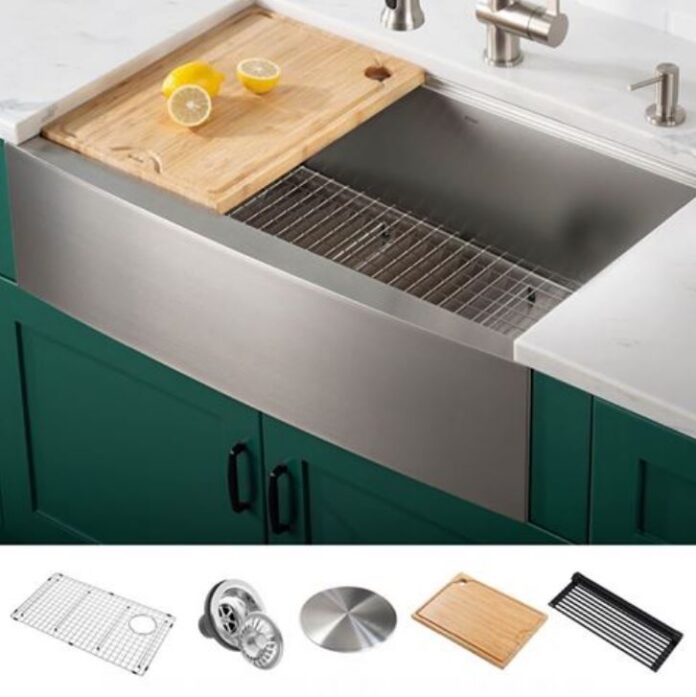 There can hardly be any disagreement about the attractive looks of the apron-front sink in the kitchen. It resembles modern taste while creating an impeccable farmhouse charm. The sinks in this specific style tend to be naturally rustic and appealing, for which you can give credit to their finishing. It will not be wrong to say that most homes with busy kitchens require a deep farmhouse basin to handle their heavy daily chores with ease. The deeper and broader bowls of this system can beat any ordinary sink that struggles to keep pace with the needs of the larger families. These miserably fail, more particularly when there are no dishwashers.
The protruding edge of the apron sinks is another feature that draws attention for its thoughtful construction and beauty. Its exposed front extending beyond the cabinet's edge is not only useful but aesthetically remarkable too. While on one side, it takes care of your piece of kitchen furniture by stopping water from seeping inside, the same characteristic, on the other hand, instantly elevates the entire atmosphere by adding a touch of elegance through its unique shape. You can consider stainless steel, composite granite, and fireclay bodies when you think of the options in this model.
Still, before getting ready to invest in this kitchen sink, you have to be aware of a few scenarios. That is, if you already have an apron basin in your kitchen, you can buy new to replace the old. Another situation is where you are planning to renovate your kitchen massively. In this case, also, you should not face any trouble adopting this style. Since there is going to be countertop and cabinetry rework too, you can get this design. However, if you don't have plans for a full-scale makeover, then it can be a bit of a problem.
The simple reason is the nature of installation of this sink that demands complete upgrade of the countertop and cabinets to make them compatible with its design.
The installation options for farmhouse sinks
Why do you need to change your countertop and drawers? The apron-front kitchen sinks feature undermount and drop-in installations. Of these two, undermount is the most common choice. The models are undermount because they fit from under the countertop, giving a flush look to the surroundings. For this, you have to ensure precision with measurements so that there is no glitch. If successfully installed, this design can benefit you in numerous ways, of which its ability to help you with countertop cleaning job is the main highlight. You can sweep all the debris in one smooth go from counter to sink.
Selecting an undermount farmhouse sink can also be favorable as it gives you far more freedom with faucet placement due to the absence of pre-drilled holes in many models. You can decide the location of the faucet based on your convenience. With top mount designs, this facility may be unrealistic. If you are planning to redo your kitchen after modern trends, then again, you can rely on this to help you maintain seamless and clean lines, a mark of urban mind. Those working with this model believe that the extra inch of the counter space it saves for them has a humungous advantage. The kitchens that are already cluttered or cramped gasp for a bit of room, and this design guarantees it for them.
If you have invested in an expensive or stylish countertop, you would want it to be everyone's focus. Since the undermount sinks fit from inside the counter, the top part remains fully visible and garners quick attention from guests and everyone else. There is no eyesore in terms of the sink rim intervening with the beauty of your thoughtfully chosen countertop material.
However, one challenge that you can face with this design is its installation process. You have to be careful with the cutout in the countertop and a base cabinet that has to bear the burden of the massive sink. Plus, the seal must be proper between the sink and countertop to avoid the issue of the water leak. Correct measurement and the mounting process has to be put in place to counter them. If you take care of these, there is nothing to bother. You can enjoy your plumbing fixture for many years without any complaint.
Some people advise top mount sinks for their cost-effectiveness and being more comfortable to install. But venturing out for this may leave you with only a handful of choices. Plus, you may have to compromise a bit on two other fronts – seamlessness and full visibility of the countertop.
The decision about undermount apron-front sinks
Going by the merit and demerit, you can end up investing in this type of design, which will not be a surprise, though. After all, anything that has to do with plumbing demands extra care as otherwise, the whole system can fail to work desirably due to one faulty connection. However, choosing it with awareness can make an enormous difference in your life. Since you know what could go wrong, you will be more attentive.
Just remember one more thing, no matter which material you like, you should consider sourcing it from a reputable store only. A well-known brand or store will not supply any sub-standard product. At the same time, you can expect them to give you free accessories. Some brands provide bottom grids, strainers, and kitchen towels. All these items can mean additional costs if you have to buy them separately from the market. However, if you shop for your sink from a nice place, you can expect these items for free.
So, whether you are going to transform your kitchen now or soon, you can rest assured that the undermount farmhouse sink can fulfill all your needs. The attractive design can meet your practical and aesthetic goals. Some of these come equipped with double bowls. If you are a multitasker, you can choose one of these over single basins. Your cooking and cleaning tasks can happen simultaneously.
If you are working as a freelancer, you know the importance of time tracking, and the truth behind the saying 'Time is money'. Due...