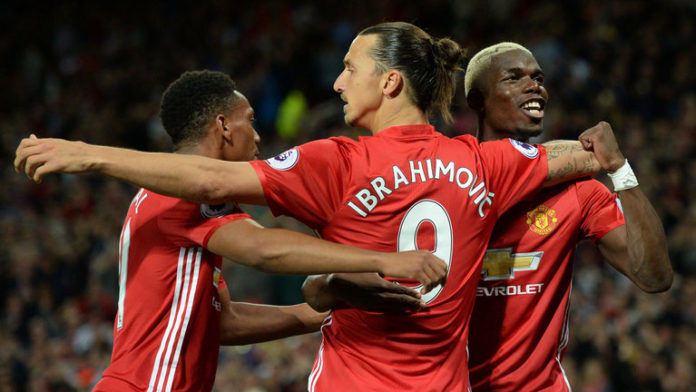 Manchester United have announced record revenues of £515.3m for 2016, becoming the first English club to earn over half a billion pounds in a single year.
United's total revenue of £515.3m is up from 395.2m in 2015 and includes a record operating profit of £68.9m.
The club's revenue was boosted by winning the FA Cup for a record equalling 12th time, an increase in Premier League broadcasting rights and the announcement of 14 new sponsorship deals.
Executive vice-chairman Ed Woodward commented: "Our record Fiscal 2016 financial performance reflects the continued underlying strength of the business and the club is on target to achieve record revenues in 2017, even without a contribution from the Champions League.
"This strong financial performance has enabled us to invest in our squad, team management and facilities to position us to challenge for, and win, trophies in the coming years."
United paid £8.4m in compensation to fire Louis Van Gaal and members of his coaching staff.
The Dutchman was dismissed in May after two years in charge despite winning the FA Cup because United failed to qualify for the lucrative Champions League.
United's wage bill rose to £232.2m, an increase of £29.6m, or 14.6 per cent, over the prior year, primarily due to renewals of existing player contracts, coupled with an uplift in annual player salaries due to participation in the Champions League.
German midfielder Bastian Schweinsteiger, who has been frozen out by new manager Jose Mourinho, has been written off as an 'asset' by the club.
Under the 'exceptional items' section of United's annual results, it listed a sum of £6.7m "related to a registrations' impairment charge regarding a reduction in the carrying value of a player no longer considered to be a member of the first team playing squad".
The club's net debt as of 30 June 2016 was £260.9m, an increase of £5.7m over the prior year.
This increase was primarily due to the impact of foreign exchange rate movements on United's USD denominated debt. The USD/GBP exchange rate moved from 1.5712 at 30 June 2015 to 1.3332 at 30 June 2016.
Though United become the first English club to smash through the £500m mark, they are still behind Barcelona who announced record figures of £570m in July.