Brabus for this Obsidian CLS black exterior has chosen 20-inch "Liquid Titanium" wheels, front mask with "Brabus" logo, modified shock absorbers, sport exhaust system, etc.
It has also opted for black Nappa leather seats, aluminum pedals, new carpets as well as thresholds with "Brabus" lighting.
As far as the engine is concerned, the 6-cylinder Bi-Turbo engine of this AMG CLS 53 4Matic from 435 is boosted to 500 horsepower, which now can reach speeds of 0 to 100 kilometers per hour in 4.3 seconds while maximizing it to at 250 km/h.
Mercedes-AMG CLS 53 4Matic by Brabus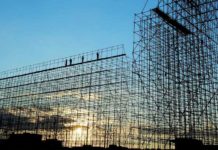 Scaffolding is an indispensable part of the construction industry. It helps in making life easier for construction workers. The industry uses this system for...