The regular A3 hasn't been unveiled yet, but Audi is already giving us a first taste of the S version
After the debut of the new Volkswagen Golf 8 and the fourth-generation Skoda Octavia late last year, as well as the fourth-generation Seat Leon last month, the time has come for the Audi A3 Sportback, too. This is expected to happen early next month at the Geneva Motor Show.
Audi has yet to reveal the S3 Sportback, but has invited media representatives to take a closer look at the shooting of this prototype in Portugal, more precisely on the island of Sao Miguel in the Azores archipelago.
The Audi S3 Sportback will have a 2.0-liter TFSI Turbo petrol engine with a capacity of 306 hp, 10 hp more than the current model.
This Audi model is expected to be a strong competitor, such as the Mercedes-AMG A35 and BMW M135i. In addition to the powerful engine, the S3 Sportback will also be available with the all-wheel-drive Quattro, as well as all models from the Audi Sport department except the Audi R8 V10 with rear-wheel-drive only.
Also, the new S3 will have the following driving options: Balanced, Dynamic and Comfort. There will also be Bridgestone tires specifically designed for this model, as well as 19-inch wheels reserved for this high performance Hatchback.
The engine of this sporty model will be combined with the 7-speed automatic gearbox, and it should be noted that there will be new shock absorbers that will make the S3 Sportback "sharp" in turns. Audi also promises that this S3 will be "the most dynamic model in its class".
The Fifth generation A3 on the market will replace the 2012 model.
2021 Audi A3 Sportback prototype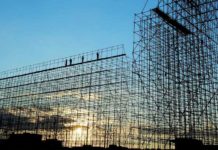 Scaffolding is an indispensable part of the construction industry. It helps in making life easier for construction workers. The industry uses this system for...