The captured image is said to have a resolution of up to 240 megapixels, thanks to a combined five-sensor system, Telegraph reports.
With two color cameras and three monochrome sensors, it can take ten times more light than any other device.
The device introduced at the Mobile World Congress in Barcelona – the largest phone technology business – will cost $699.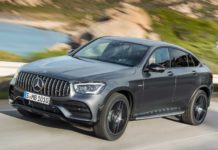 The Mercedes-AMG GLC 43 and the GLC 43 Coupe are updated for 2019 with a fresh style and more power.Performance SUVs will arrive on...