4 Reasons Why People Like to Play Golf
Just like many other sports, golf is a sport that has been around for quite a long time and has gone through its fair share of changes. This has included changes to the equipment, changes to regulations, changes to golfing venues, and even changes in the tournaments that take place. However, what has remained constant is the essence of the game. You are not fighting anyone else, you are fighting yourself. There is a scorecard and the winner of a tournament is the player with the best score but the only real competition that you have as a player is yourself. If you think hitting a ball around a course isn't the most entertaining thing in the world, here are some things that might change your mind.
1.
Beauty
No one can deny that being in the open and doing something outdoors is always a fun and refreshing experience. If you enjoy playing a sport, and you get to do it outdoors, it makes the game even better as an experience. While most games are played in confined areas, even if they are outdoors, you will rarely see a golf course in the middle of the city. Due to the size of the courses, they naturally have to be out in the open, usually in areas that are not very populated. This also lends them the advantage of being located in some of the most scenic locations in the world. While you take a 15-minute walk to your next hole, you get to experience some of the best views in the world. More importantly, some golf courses are restricted for certain people and not everyone will ever get to see these beautiful sceneries.
2.
Open Access
The thing about high-speed sports or sports that require more advanced physical capabilities, is that not everyone can play them. Golf is a sport in which you will see everyone from 5-year-olds to World War 2 veterans playing. As long as you can swing a club, you can play. There isn't any particular gear requirement, you can play with any equipment you like. Articles found on https://golfinsideruk.com/ claim that equipment should be the least of your concerns. A lot of golfers play with certain brands, but they would be just as good even if they didn't have that exact equipment. After all, it isn't about how expensive the club is, it's about how good you are at handling the situation. Even if you have played on the same course with the same club multiple times, you might perform differently at any given time.
3.
Social Life
You might have noticed that golf isn't the most fast-paced sport out there. There is plenty of time to walk, talk, have a drink, and even more time after the game to talk and make friends. This is why a lot of business people meet other business people during a game of golf. It gives the meeting a unique twist and also makes for a more intimate connection when you have something in common that you are bonding over. If you just want to make some new friends, golf is a great way to meet new people. In fact, many people just play golf because all their friends do and it is something fun to do on the weekend.
4. Flexibility
If you want to train like an athlete, you need a gym, you might need a coach, and most other sports aren't that easy to replicate in an environment they are not specifically designed for. You can easily practice your golf at home with nothing more than a club and a ball. You can go to driving ranges to practice bugger shots. You can practice in your office, you can even play on a plane. There is so much flexibility with golf that many people just enjoy putting. They don't even play the entire game instead they just have some basic equipment out in the garage where they spend hours perfecting their put. If you want to make it complicated, golf can be an entire science, but if you just want to have fun, golf is a great activity to get into.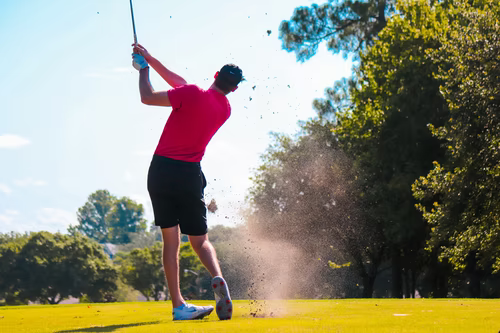 The only thing you need to focus on is how well you are able to take a shot and how well you are able to continue playing after seeing the consequence of that shot. In many sports, it is your level of skill that determines the outcome, or it is the level of cohesion in the team that is important, in golf, it is your ability to stay level-headed and to perform at a consistent level. Also, how well you are able to observe the environment and react to it will also help. As for professional players, it is a very well-paying sport to pursue as a career.