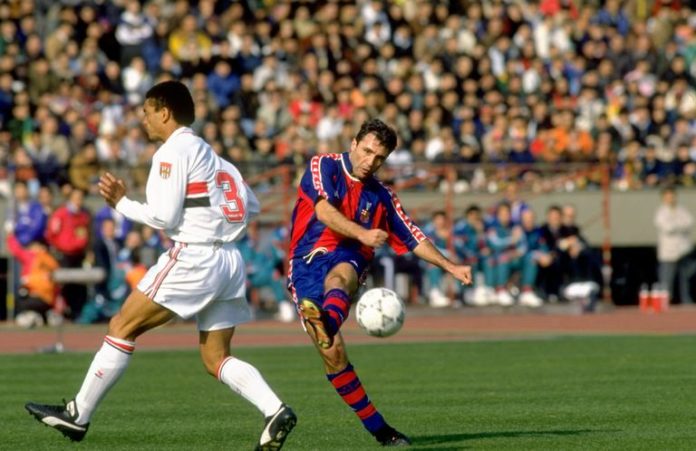 1. Lionel Messi
Messi is the club's record goalscorer, and the five times World Player of the Year just gets better. Any debate about the best player ever usually revolves around Pele and Maradona, but Messi has earned the right to be mentioned in the same breath as these two greats.
2. László Kubala
A total of 274 goals in 345 games in 1950-1961 speaks for itself. Kubala was excellent at turning players and a strong dribbler. The way he dispatched the ball with power and precision past opposing goalkeepers made him feared across the land and regularly got him into double figures in the goal charts
3. Xavi Hernandez
Xavi was Barcelona's midfield orchestrator for the best part of 15 years. He became invaluable for Barcelona over that time, and although not a prolific scorer from midfield, his passes into the box and ability to take free-kicks were invaluable for club and country.
4. Ronaldinho
For a while, Ronaldinho was the best player in the world. Those devastating bursts of acceleration that took him past defenders were taken for granted at Camp Nou. Also an expert free-kick taker, Ronnie won two Spanish League titles and a Champions League during his time at the club.
5. Rivaldo
Rivaldo possessed a wicked left foot and his curling free-kicks were a thing of beauty. Eighty-six goals in 159 Barca games was an impressive haul for a playmaker. Scorer of arguably the best hat-trick ever against Valencia in June 2001 to secure Champions League qualification.
6. Andres Iniesta
Iniesta does not score many goals, but his game is all about linking up with team-mates. Those passing triangles he and Xavi produced were a trademark of Guardiola's Barcelona. Iniesta is also very modest, never creating problems for the coaches he works under. His winner for Spain in the 2010 World Cup final means he is loved by fans across the country, even those of city neighbors Espanyol.
7. Hristo Stoichkov
Ability to produce the unexpected, mainly from the left of midfield, was his defining characteristic combined with a goals ratio (85 goals in 175 appearances). He claimed in 2010 that Real Madrid 'make me sick' – a comment that no doubt cemented his place in the hearts of the fans.
8. Josep Guardiola
Pep played the game with a delicious simplicity. Rarely taking more than two touches of the ball, he would dictate play in a similar fashion to Xavi. Guardiola was Jonan Cruyff's eyes and ears on the pitch and a key figure in the side that dominated Spanish soccer in the early 90s.
9. Johan Cruyff
The Dutch legend was one of the main protagonists in the challenge to Real Madrid's dominance after joining the club in 1974 for a world record US$1 million. After his arrival at the club, Barca enjoyed a greater share of the game's major honors. His ability to dictate play set him apart from the rest, and 16 goals in 26 league appearances helped Barca to the title in his debut season.
10. Michael Laudrup
One of the players most similar in style to Cruyff, the Dane was a major player in Barca's 'Dream Team'. His outstanding technique, dribbling ability and range of passing ensured that he was also a huge hit at bitter rivals Real Madrid. Laudrup's trademark move was to look one way and pass the other.
Which Barca player should also be on that list?