Broadcom's warning is the clearest proof of the damage Trump's trade war with Beijing is causing. Brodacom's shares declined by 8.6%, dropping $9 billion in market value from a company that had headquarters in Asia in the past, but now in America.
The chip manufacturer like Qualcomm, Applied Materials, Intel, AMD and Xilinx also saw the shares fall between 1.5% and 3%. Shares of almost all Huawei suppliers fell.
Huawei accounted for $900 million in Broadcom's sales, or 4% of it. The semiconductor industry has faced low demand since mid-2018, and the latest geopolitical war along with sanctions against Huawei are a shock.
Broadcom, known for its Wi-Fi, Bluetooth and GPS smartphone chips, is also a major supplier of Apple.
CEO of another American chip giant Micron Technology said sanctions against Huawei bring uncertainty and concern to the semiconductor industry.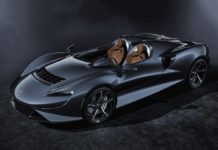 While Senna is made for racing, Elva is designed for public roads but with high performance. McLaren Elva has no ceiling or side glass, but...