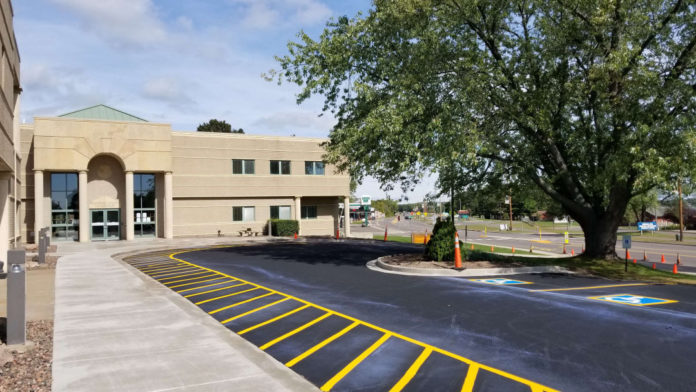 Parking lot striping provides a way to organize traffic flow in a parking area. It uses clearly-marked parking stalls and areas for vehicles to park.
A practical parking stripe layout has durable and identifiable line striping for stalls, arrows for the entrance and exit, directional arrows and more. You should use paint that is easily visible in any weather and any time of the day for the striping to be effective.
Selecting the Right Parking Lot Striping Paint
Choosing the right parking lot striping paint is critical in creating an effective layout. There are several brands of paint available in the market today. These paint types include water-based acrylics, solvent-based alkyd resin paints, solvent-based chlorinated rubber, and many more.
The diluent for solvent-based paints is the mineral spirit, while water is the diluent for its water-based counterpart. The most common paint used in parking lot striping is water-based acrylic. Water-based acrylic paints are durable, have high brightness and visibility, and are environment-friendly.
Properties of a Good Parking Lot Striping Paint
To be effective, a parking lot striping paint should have the following features:
1. Durability
Parking lot striping paints are exposed to the weather. They endure the coldness of winter and the heat of summer. The components of the paint react to harsh weather conditions. They expand when the weather is hot and shrink when the weather is cold. An effective paint must be able to last for at least five or more years without any visible weathering.
2. Brightness
Nighttime and bad weather conditions are challenges to engineers who design parking stripe layouts. The paint they use must be visible to drivers to avoid unnecessary parking mishaps in parking areas. The brightness of the paint influences the visibility of these parking stripes.
3. Material
Some paints are designed to be used in concrete. Others are appropriate for painting on asphalt. The content of the paint must match the surface of the parking lot area it is applied. If the paint is not compatible with the parking lot surface, this will result in unwanted chafing and weathering.
4. Availability
Choose parking striping paints that are readily available in your locality. It will cost you additional dollars if you need to transport the paint. In the same way, it will also save you the trouble of having to stop the project because the paint supply has run out.
5. Cost
A standard cost to line stripe parking lots would only cost 20 to 30 cents per linear foot. An 18 feet and 4 inches wide line stripe would cost $4 to $6. For curbs, it would be 60 to 70 cents per linear foot. Other fees also include the materials and the worker's expense. If the project is big, you can try offering it to bidders to reduce the cost. Make sure to do your research on each service provider to ensure quality.
Paint striping is critical in parking lot management. Choosing the right paint to use is important. Consult your local hardware personnel if you do not know what to choose.
neOadviser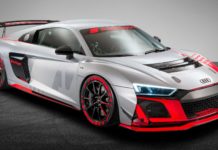 A year after the introduction of the redesigned R8 by Audi's competition department, the redesigned and updated R8 LMS GT4 arrives, sharing about 60...