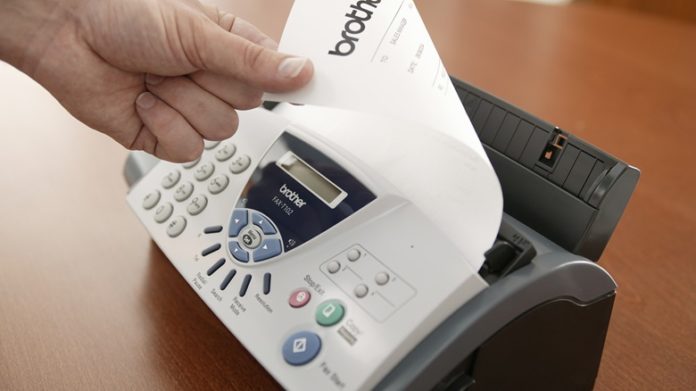 When was the last time you sent a fax? In our increasingly paperless world, you probably don't work with faxes more than a few times per year, if it all. Thanks to free web services, though, it's easy to send faxes online — there's no need to keep a physical fax machine around anymore.
However, what if you're traveling and need to send a fax from your smartphone? Don't despair — it's easy to send and keep track of faxes from your Android device. Let's take a look at the best apps for the job.
A Note on Faxing Apps
Unfortunately, most Android faxing apps are either wildly outdated or charge a high price for faxing. Years ago, we covered an app called FilesAnywhere that once offered free faxing from Android. However, the app has since eliminated its free plan and is visually archaic, eliminating it as a useful option.
Lots of faxing apps have gathered angry reviews stating that users were overcharged, or had to pay for faxes that didn't go through. Thus, caution is necessary when you're downloading fax apps from the Google Play Store.
We've found one that's a good option — CamScanner. While it doesn't offer free faxing, it's a smooth app and worth keeping around if you manage lots of documents on your phone.
CamScanner: Cheap and Solid
Unlike FilesAnywhere, CamScanner is slick and conforms to modern Material Design standards. Install the app from the Play Store, and you'll notice that you don't even have to create an account. Tap Use Now in the bottom-right corner of the introduction screen to jump right into the app.
Since CamScanner does more than faxing, you'll see a lot of extra features that you don't need to worry about for sending faxes.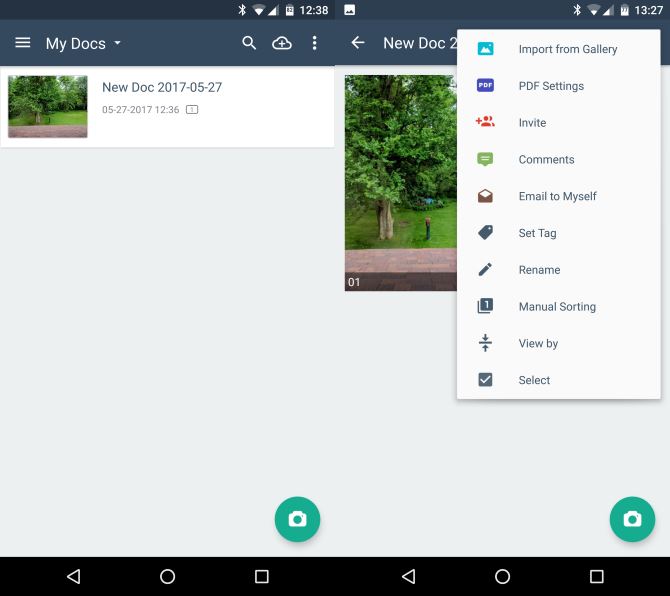 You can add a document to fax using two methods. Tap the camera icon in the bottom-right corner of the app to open the document scanner. This uses OCR scanning to grab a picture of a document and turn it into a PDF.
If you already have an image on your phone you want to fax, tap the three-dot menu in the upper-right instead and choose Import from Gallery. CamScanner will then list all the recent photos on your device. Tap one or more and then Import to add them to your library.
Sending Faxes with CamScanner
Once you've added one or more files to send via fax, tap them to open the document view. To send them by fax, you'll need to hit the Share icon, then choose whether you want to share a PDF or JPG image.
After making that selection, you'll see the standard Android sharing menu. One of the options listed is Upload / Print / Fax from CamScanner, which is the one you want. Tap this, then select the Fax tab to enter the recipient's info.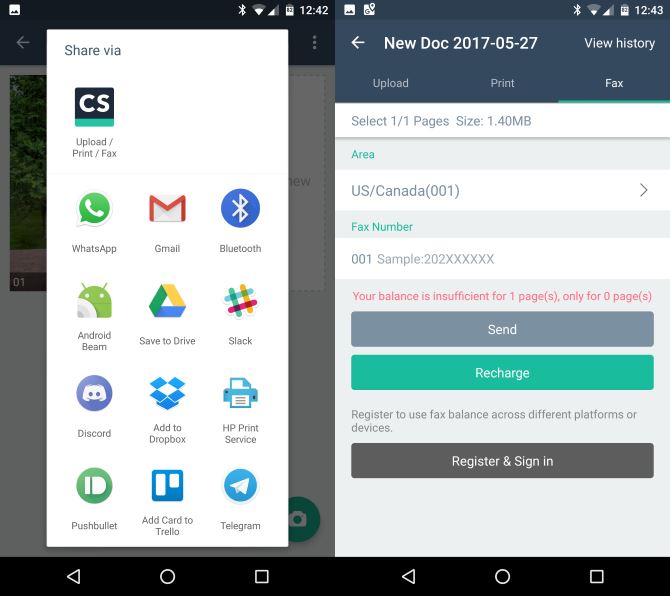 Choose a country code and enter the fax number you want to send the document to. You'll notice the app telling you that you don't have a sufficient balance, so tap Recharge to add credits. CamScanner charges $0.99 for a single fax page, or $8.99 for 10 fax pages.
While this isn't dirt-cheap, for most people's faxing needs it's a minor expense. If you only fax two or three pages a year, paying a few dollars is likely cheaper than the gas you would use to drive to your local library and fax — plus they often charge a fee anyway.
Note that if you register for a free account, you can sync your faxing credit balance across devices. This is a good idea so you don't lose your credits should you get a new phone or lose yours. In addition, scanning images with CamScanner will add a watermark in the free version. The paid plan that costs $5/month removes this and adds additional editing functionality.
Overall, CamScanner isn't perfect. It's not free and the watermark is off-putting for professional documents. However, it's an inexpensive way to get the job done without leaving your house for that occasional fax.
Using HelloFax Mobile
As mentioned, most Android faxing apps aren't anything special. Thus, if you need to send an occasional fax and don't want to pay, your best option is using the mobile version of HelloFax, which lets you send faxes for free online. Visit the HelloFax website through your phone and tap Get Started to sign up for a free plan. The site isn't well-optimized for mobile, but you can get by without much trouble.
Enter your email address and create a password as usual, or sign up with your Google/Microsoft account. Once you're signed in, just tap the Upload Files button to snap a picture of a document with your camera, or to pick a file on your device. Then enter a fax number, and tap Send. That's it — you've sent a fax!
A free plan with HelloFax offers five pages at no cost, and only allows sending faxes, not receiving. If you want to send more, you can pay $0.99 per page/fax for up to 10 additional pages, with every page after that costing 20 cents each. Big fax users can also upgrade to the Home Office plan, which costs $9.99/month and lets you send/receive 300 faxes per month. That's a lot cheaper than paying a dollar per page if you fax a lot.
Overall, HelloFax is still the best solution for free faxing on Android. The mobile site isn't fantastic, but it only takes a minute to send a fax, so you won't notice it much anyway. If you really want a dedicated app in your drawer for faxing, you can turn the site into an Android app yourself.
Get Faxing on Your Phone
The state of faxing on Android isn't fantastic. You won't find one must-have app that does it all at no cost. But these two options provide you with a solid app for document management and faxing if you do it often, or a quick one-off fax for those times when you don't have another choice. Hopefully you don't think about faxing more than a few minutes per year. When you have to, though, these two services should cover your needs just fine.
Do you send faxes anymore? When you do, have you ever sent faxes from your Android phone? Let us know if faxing is still important to you down in the comments, especially if you prefer another app!