Autel are a diagnostic scan tool company that make high quality and professional standard devices at competitive prices. All of their scanners offer great features like code reading, system reprogramming and live data streaming. 
Some of their best scanning devices are also bidirectional, which is an excellent feature that really helps mechanics during vehicle servicing. In this article we'll explain what a bidirectional scan tool really is, and give our recommendations of great Autel bi-directional scan tools.
[td_block_ad_box spot_id="custom_ad_2″ tdc_css=""]
What is a bidirectional scanner?
If a scanner is bi-directional, it means that it can send information and commands to a vehicle, as well as receive information from it. A normal scan tool will only be able to receive information from the vehicle, which could be error codes, sensor readings and emissions values. A bi-directional scan tool can do all this, and in addition can send commands that will influence the vehicle directly.
For example, if a mechanic was investigating the brake pads of a car, they could use a bi-directional tool to open and close the brake callipers, without having to actually press the brake pedal themselves. This is not only useful if the brake pedal isn't working properly, but also if a mechanic wants to be looking right at the callipers whilst they open and close them. You can also use a bi-directional scan tool to initiate ABS bleeding.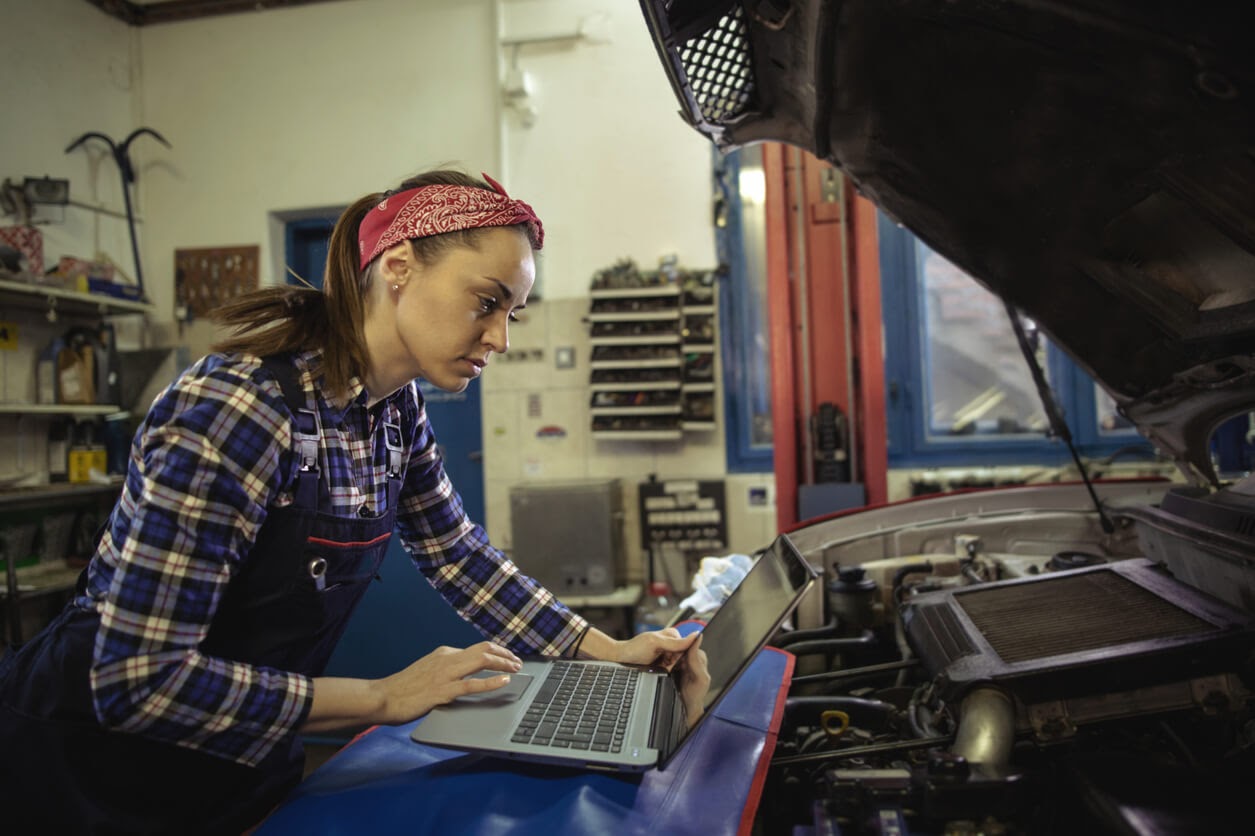 Bidirectional scan tools are also essential if the user wants to do any reprogramming or work on the ECU coding system. ECU coding basically lets the mechanic adjust parts of a vehicle's CPU and tune it to however they or the customer would like it. There are quite a few things that you can adjust by re-coding the CPU, such as the actuator response, vehicle electronics, and even how many times the indicator blinks when you press it. A bi-directional scanner control gives a mechanic a lot of freedom and lets them personalise vehicles with ease (video here).
Overall, a bi-directional scan tool provides a range of options for a vehicle owner that a normal scanner simply can't match. The ability to use car functions directly from the scan tool is very useful and this level of bidirectional control has made these tools very popular amongst professional mechanics.
Best Bi-directional Autel Scanners
Here are a couple of the best bidirectional scan tools made by Autel and there are also more options with in-depth reviews.
Maxisys MS906
The Maxisys MS906 is one of Autel's latest diagnostic tools. Not only will it complete basic OBD functions such as disabling the check engine light or oil reset indicator, but it will also give a mechanic a great level of bi-directional control for running in depth, full system testing.
It has a high level of vehicle coverage and is compatible with a wide range of car brands and car models from around the world. It is very easy to use and comes with a one year warranty included. The Autel Maxisys is a great diagnostic tool with fantastic bidirectional functions.
MaxiDAS DS808
Another option is the MaxiDAS DS808. This scan tool also has good functionality and can run a variety of system tests, including actuator tests and fuel pump resetting.
The DS808 has an intuitive design and its software is simple to use and understand. Like the MS906, this diagnostic tool is compatible with a huge range of car makes and will have you covered with whatever drives into the workshop. It's real time live data stream is a particularly well done feature.
Is Blue driver bidirectional?
Although the BlueDriver is capable of dual direction functions, they haven't yet been fully integrated into the app. If you are only going to be reading sensor data and trouble codes, then the BlueDriver might serve you well. However, if you need to run active tests and use some of the best bi directional features, you won't be able to with the BlueDriver.
Which Autel scanner is best?
Scanners made by this company are always well built and perform to a professional standard. It's hard to say which is the best scanner they make, because a lot of them are designed with different uses in mind. Having said that, the MaxiSys MS906 and the MaxiDAS DS808 are some of the best scanners they make, and you can't go wrong with either.
Which is better, Foxwell vs Autel?
These two brands are perhaps the most well known and respected in the business. You'll be safe with a scanner from either – you can rest easy knowing you have a reliable tool with a great warranty whichever one you buy from.  If you are still unsure, check out this helpful video.
[td_block_ad_box spot_id="custom_ad_3″ tdc_css=""][td_block_11 category_id="3″ limit="1″ td_filter_default_txt="" tdc_css=""]