After the CLA 250 debut at the Consumer Electronic Show in America, Mercedes now expands the range with the launch of the high performance Mercedes-AMG CLA 35.
[td_block_ad_box spot_id="custom_ad_2″]
The new model packs 302 horsepower from a four-cylinder turbocharged 2.0-liter engine, instead of the existing CLA 250 with 221 horsepower.
The most powerful two-turbo engine 2.0 is connected to a seven-speed automatic truck. The output of the engine is distributed on all the wheels of the car.
Mercedes's statistics say the CLA 35 reaches 96 km/h in 4.6 seconds.
The CLA 35 demonstrates the highest performance capabilities of the CLA 250 with some visual changes.
The front features rods that go through the grille, as well as chrome parts in the corners of the car.
Mercedes-AMG CLA 35 comes standard with 18-inch wheels, but buyers have the option to choose 19-inch wheels. On the rear there are diffusers with a pair of circular plugs on both sides of the car.
Compared to other variants, the CLA 35 wins an aluminum panel under the engine that promotes rigidity on the front. Buyers have the option of choosing adaptive shock absorbers that are optional, to make the car more maneuverable.
The interior of Mercedes-AMG CLA 35
The AMG model interior comes with Mercedes's MBUX system. The system includes 10.25-inch screens for instrument and information tasks.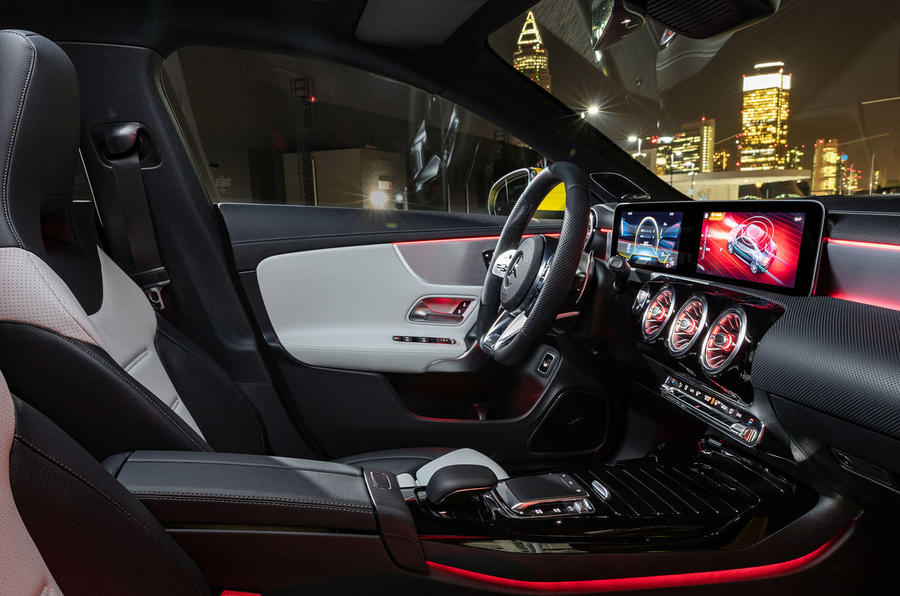 The car has three driving directions, which benefits from the AMG package. They are Classic, Sport and Supersport.
The car interior is a combination of red and black or black and gray in color. It remains in the hands of buyers to choose the combination they want.
The ambient can be illuminated in different colors, depending on the driver's wishes.
Mercedes-AMG CLA 35 will make the official debut at the Car Show in New York on April 16th. The price has not yet become known.
[td_block_11 category_id="3″ limit="1″ td_filter_default_txt="" tdc_css=""][td_block_ad_box spot_id="custom_ad_3″ tdc_css=""]