AI in Education: The Future of Learning
When people think of artificial intelligence (AI), they might imagine sophisticated robots or self-driving cars. But AI is much more than that, and it's being used in ways that directly impact our lives, particularly in the realm of education. The future of learning is being shaped by this advanced technology, revolutionizing traditional teaching methods and learning practices. Today, we will explore nine ways in which AI is transforming education, to provide you with a glimpse of the future of learning.
1. Personalized Learning
Personalized learning is an approach that tailors education to meet the unique needs of each student. With AI, this concept has gained a whole new dimension.
AI-powered software can analyze a student's performance and tailor instruction based on their strengths and weaknesses.
Such software can suggest the next topics to study, provide extra materials, or alter the difficulty level based on the student's progress.
For example, AI-based learning platforms like Khan Academy and Coursera use such technology to offer personalized learning paths to students.
2. Intelligent Tutoring Systems
Imagine having a personal tutor available 24/7 at your service. This is what Intelligent Tutoring Systems (ITS) bring to the table.
ITS can understand a student's behavior and respond accordingly, much like a human tutor.
They can clarify doubts, provide detailed explanations, and even suggest additional resources.
Examples of ITS include Carnegie Learning, an AI-based tutoring system that offers real-time feedback to students.

3. Virtual Reality and Augmented Reality
Virtual Reality (VR) and Augmented Reality (AR) are exciting technologies that provide immersive learning experiences.
VR and AR can create 3D interactive environments for students to explore, enhancing their understanding.
For instance, VR can take students on virtual field trips, like exploring the Amazon Rainforest or walking on the surface of Mars.
Google Expeditions is a VR and AR educational tool that allows teachers and students to dive into unique learning experiences.

4. AI in Project Management Tools
Whether it's managing a school project or overseeing an assignment at a university level, project management tools have become indispensable. AI takes these tools to the next level by streamlining the process, predicting outcomes, and enhancing overall efficiency.
AI can help in resource allocation by predicting the best use of resources based on previous projects.
These tools can also automate routine tasks, such as tracking progress and sending updates or reminders.
They can also provide predictive analytics, giving insights into potential bottlenecks or risks before they become major issues.
Some of the top project management tools incorporating AI are:
Bordio: Bordio is an AI-powered project management tool that optimizes project planning and execution. It offers predictive analytics to help teams make data-driven decisions. Bordio can recommend the best course of action based on past data, manage resources efficiently, and even detect potential issues before they become problems.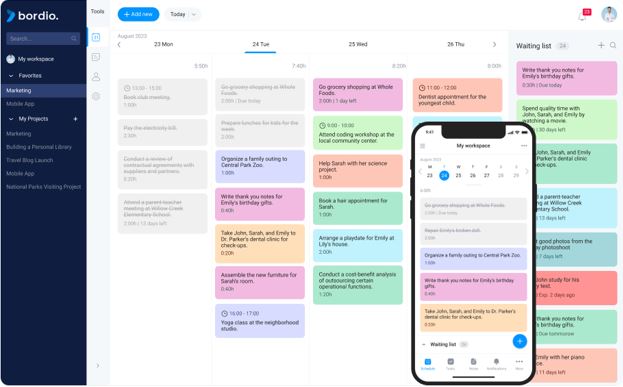 Asana: Asana has integrated AI and machine learning to automate work processes and improve task management. With smart project templates and automated workflows, it can make project management more efficient.
Zoho Projects: Zoho has incorporated Zia, their AI assistant, into their project management software. Zia can predict project success, recommend optimal workflows, and even identify when team members are overloaded.
Clarizen: This project management tool uses AI to provide real-time insights and automate repetitive tasks. It also uses predictive analytics to help forecast project completion dates and potential budget overruns.
5. Intelligent Content Creation and Curation
AI can also help in creating and curating educational content.
AI-powered systems can produce digital content such as textbooks, lesson plans, and study guides.
It can also curate personalized content based on a student's learning style and pace.
Companies like Content Technologies, Inc. are using AI to generate customized textbooks and learning materials.

6. Automating Administrative Tasks
AI can help teachers by automating administrative tasks, giving them more time to focus on instruction.
AI can grade assignments, track student attendance, and even respond to student queries.
Teachers can use this time saved for more personalized instruction and student interaction.
Software like the Teacher's Assistant by IBM Watson is designed to help automate these routine tasks.

7. Assistive Technology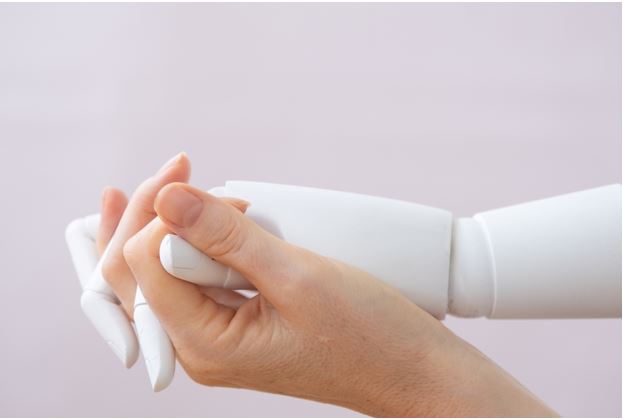 AI provides assistive technologies to help students with disabilities, offering them an equal opportunity to learn.
AI-powered tools can transcribe lectures for deaf students or transform text into audio for visually impaired students.
These tools also allow students with learning disabilities to grasp information at their own pace.
Apps like Microsoft's Seeing AI and Google's Live Transcribe are examples of AI assistive technologies.
8. Game-based Learning
AI is transforming education through game-based learning, which makes learning more fun and engaging.
AI-powered educational games adapt to a student's skill level and provide personalized learning experiences.
These games provide instant feedback, helping students learn from their mistakes.
Companies like Prodigy Education use AI to create math games that adapt to each student's unique strengths and weaknesses.
9. Predictive Analysis
Predictive analysis is a technique used to predict future events based on historical data. In education, it can help anticipate students' performance and progress.
AI can analyze patterns and trends in a student's performance over time.
This analysis can be used to identify at-risk students or predict future performance.
Schools and universities can use this information to implement support measures to improve student outcomes.
To wrap up, AI is drastically transforming education, making it more personalized, accessible, and engaging. While we're just scratching the surface of the possibilities AI offers, these examples provide a glimpse into the future of learning. As AI continues to evolve, it promises to create an enriched and interactive educational landscape that caters to all learners' needs. The future of learning indeed seems exciting with AI by our side.