The company introduced two folding phone concepts.
TCL Communication, one of the fastest growing TV brands in the world, is already following the smartphone market and is not afraid to try new experiences. The company introduced two foldable phones concepts. The first folds three times and is one of the first concepts of two-axis smartphones. The 6.55-inch smartphone screen turns into a 10-inch tablet.
The second concept is even more interesting. It's not actually a folding screen phone but a roll-up screen. It looks like a normal 6.75-inch but when open the smartphone goes up to 7.8-inches, but as much as an iPad Mini without having to fold. This design keeps the phones super thin.
Due to the flexible material and the way this smartphone is built, the screen can be easily retracted and made even larger.
The device also had to be unveiled at the Mobile World Congress in Barcelona, ​​but was canceled as a result of the coronavirus. The presentation was nonetheless exciting because TCL confirmed that the device has no defects in screen folding, alluding to the smartphone of other firms having problems with their screens.
Since TCL produces the screens themselves, the company has experimented with several formats and said it has more than 30 concepts that are brought to its plants. However, they are concepts and will probably never make their debut.
When the cell phone screen is folded, the screen simply rotates along the left side of the device to the inside of it. According to TCL, the work series model has built-in motors, which pull the screen and push it together.
Over time, TCL will also benefit from falling prices for these smartphones because very few users are willing to buy a $1,300 to $2,700 smartphone.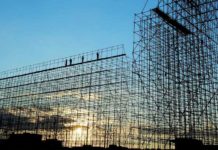 Scaffolding is an indispensable part of the construction industry. It helps in making life easier for construction workers. The industry uses this system for...