We are speaking of the 007 Aston Martin DBS Superleggera, which comes with dark blue exterior, carbon fiber aerodynamics kit, some black and silver details, 21-inch wheels in black, as well as with black leather seats.
Aston Martin DBS Superleggera has a 725-horsepower 5.2-liter Twin-Turbo V12 engine in combination with the 8-speed ZF automatic gearbox, which is enough to reach 0 to 100 kilometers per hour in 3.4 seconds. while the maximum is up to 340 km/h.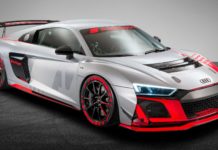 A year after the introduction of the redesigned R8 by Audi's competition department, the redesigned and updated R8 LMS GT4 arrives, sharing about 60...