At the Franksfurt Motor Show, we've seen the ID.3 model, but Volkswagen hasn't ended its surprises this year.
During this setup, VW was also planning to unveil the new Golf model, but this was postponed until October.
Previously, we've seen the Golf GTE being an electric hybrid, until now it's been seen even testing the Golf with no camouflage just a few stickers on the headlights and tail lights.
Is noted the fill port on the left side protector, new wheels and GTE-like grill. This model looked closer than ever before, and had the new logo.
Volkswagen Golf Spy Shots
As part of the eighth generation, the Volkswagen Golf will be the freest in use so far, with high tech and good style.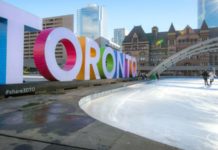 Our topmost list of five great things to do in winter in Toronto sounds one of the most adventurous things you can ever dream...