Twitter, with about 330 million active users, is for sure one of the most popular Social media. So today, we are sharing to you the top 3 best Twitter clients to help you stay connected with the best User experience.
> Check Out: The new Apple TV app comes with iOS, Apple and Samsung TV
Top 3 Best Twitter Clients for Android
So, follow the article below to know more about the top 3 best Twitter Clients for Android:
[td_block_ad_box spot_id="custom_ad_2″]
With the option to fully customize the theme, great animation and even a night mode version, Fenix 2 is one of the best Twitter clients apps on Play store. You also can add multiple twitter accounts and mute keywords, hashtags or annoying users.
The app is great for Naviging through it, so when you scroll down an notification will tell you the numbers of the new tweets and you can tap it or scroll up to view then. You can only upload GIFs and Pictures but not videos. The app works smoothly and does not have any Bugs. The app is available at Play Store at $4.02.
The top main features of Talon For Twitter are the compact layout, its night mode, a do not disturb mode and the Youtube and Twitter video playback. The app is part of Klinker Apps. The best feature of this app is its customization and you can add up to 2 Twitters accounts.
It supports Android wear and can require your fingerprint to post Tweets or you can also schedule tweets. You can make up to 2 Twitters accounts with Talon and the app runs smoothly. You can find Talon for Twitter at Play Store for $2.99.
The app has a great design with colorful and bright themes. You can get advanced mute controls or schedule tweets.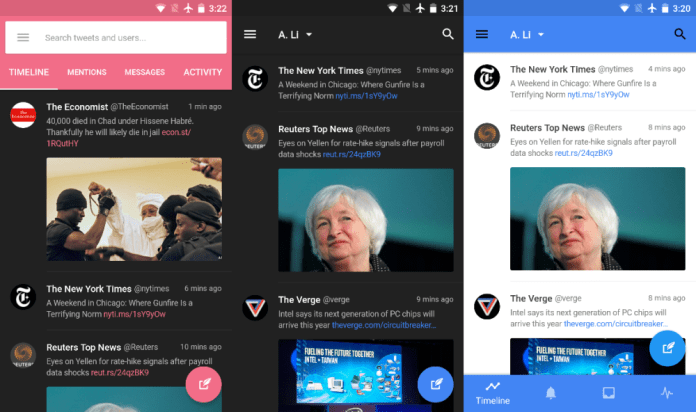 The many different features includes font, appearance, timeline media, text size gestures and transitions. Once done tweeting, you can also export the settings. Flamingo shows previews for YouTube, Article Links and Instagram. You can even enable the Dark Mode in the settings.
> Read Next: Best Terrarium TV Alternatives | Top 10 Apps Like Terrarium TV (2019)
That's all about the Top 3 Best Twitter Clients for Android. These apps are much betters as the official Twitter app and do includes many premium features that the Twitter app itself does not have it. Hope you found this article useful. If you have any other favorite Twitter Client app, please let us know in the section below, follow us on twitter and facebook for more news and updates.
neOadviser
[td_block_11 category_id="3″ limit="1″ td_filter_default_txt="" tdc_css=""][td_block_ad_box spot_id="custom_ad_3″ tdc_css=""]