We are familiar with LG's date and now we have Nokia, though Samsung has already assumed the responsibility to steal a piece of spotlights to warn that their Galaxy S10 would arrive a few days ago in an event held in San Francisco.
HMD CPO JUHO HAS BEEN REVEALED THAT 24 FEBRUARY WILL BE THE GREAT DAY OF UNVEIL IN MWC 2019.
OnLeaks, who, as usual, unveils terminals that have not been announced, has shared images and videos of the Nokia 9 prototype – this, the source adds, should actually be the commercial name of the smartphone. One particular feature is definitely a section of cameras unlike the others: in fact, on the back of the body there is a module divided into five objectives.
The lenses, along with the LED flash, are arranged according to a hexagonal model that occupies most of the upper body.
Unfortunately, the source does not add further details on the technical characteristics of the individual modules and how each will be used – it is likely that the advantages will be evaluated in terms of usability, such as the case with smartphones equipped with three or four rear cameras, each of which provides a different viewing angle.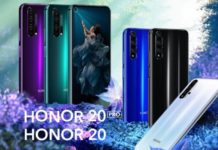 Honor launched the latest series of smartphones, called "Honor 20", at a London event.The phones debut in a new campaign titled "Capture Wonder" and...