Along with I.D. Roomz, the German company introduced at Shanghai Auto Show a giant SUV named SMV, reports Telegraph. Based on the initial data, it is the largest SUV car that VW has ever created.
With 5.1 meters of length and three-foot wheel base, it is larger than the Atlas model. While still a concept, the SMV model is planned to be manufactured in China, where it will be sold in two years.
Like most modern cars from VW even SMV, it will be built on the QMB architectural module. When it comes to sale, the car will be offered in versions 2.0 and 2.5 liters, while it can produce a maximum of 295 horsepower.
Volkswagen SMV SUV Concept
Volkswagen has not provided other SMV specifications, or interior views, while based on external images it can be said to have three rows of seats.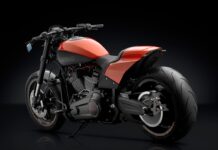 Gear up for an unforgettable ride on your favorite Harley. A Harley Davidson is equally at home as a daily commuter or a long-distance...