The first half of 201 was the scene of many changes on social networks, consequences among others of the scandal Cambridge Analytica. Here's all you need to know to effectively manage your communication on Facebook and Instagram.
Facebook
Favoring local content
Internet users are more and more accustomed to finding local results in their research, especially in SEO. Facebook is getting into the fold by also integrating more and more local content in news feeds following an update of its algorithm.
How will the location of the content be determined? Depending on the geographic location of those who click on it … So if most people who click on your content are located in your area, your content will be located there and it will be favored in the wire of other users nearby .
This novelty can be great news for local businesses that have a specific catchment area. They should see their visibility increase in their range.
Update of the statistics of the Pages
Facebook provides Pages managers with data analysis tools to know the number of followers, the results of publications, the likes, etc. This information is crucial if you want to increase your community and to make it fruitful.
This year, Facebook has changed its Page Insights. First in February by modifying the calculation of the organic scope of publications. Previously, the organic scope was calculated from the impressions of a publication, we now move to visible impressions only (the publication has actually appeared on the screen of users). If this change has reduced your organic reach, this new calculation more accurately reflects the scope of your publications.
You'll be able to learn more about watching your videos with data such as your subscribers' viewing rate compared to non-subscribers, viewer demographics, or a better view of audience retention.
New features on pages: sharing job offers
If your company recruits, know that you can now post directly on your Facebook page real job offers via a form. Your offers will be grouped in a dedicated tab on your page.
Opening of the marketplace to companies
Facebook launched its Marketplace in 2017 on the same principle as LeBonCoin. It will soon be open to corporate advertising and some sectors may directly offer their services (craftsmen, personal services in particular). 
Editing advertising options
With the entry into force of the GDPR in Europe, Facebook has removed some targeting options from partner companies.
In the context of the GDPR, you will now have to have the consent of the Internet users whose emails you use to create your personalized audiences.
Instagram
Authorize the programming of posts
Instagram finally officially gives the possibility to third-party applications to schedule the publication of your posts, it is not yet possible directly since the administration of your profile.
You can prepare your posts in advance and choose when to publish them. But be careful, you must use a photo already worked with the filters and other settings you want.
News on advertising
The Carousel format makes its appearance in sponsored Stories. You can now combine up to 3 visuals, photos or videos, in one advertising stories. This format is in beta, it is not necessarily available on all accounts today.
You can turn your boosted posts into Sponsored Story in just a few clicks to gain visibility. You will not be able to adjust the size and font of the text, display a legend of more than 190 characters, hide a shorter one and make your hashtags or clicks available for the moment.
Development of Stories
Stories are clearly highlighted by Instagram and many new features have emerged.
Many additional possibilities are available to you when you realize your stories:
Focus mode that blurs the background and improves the sharpness of the faces,
Slow-mo mode for slow-motion stories
Adding poll emoji's
The ability to publish stories containing only text
Adding GIF to your visuals
You can share your posts or posts from other accounts in your Stories. A good way to easily highlight the content produced by your community for example.
New features
Instagram allows e-merchants to send back products to their posts with Instagram Shopping.
Until now, if you did not want to see the publications of some accounts, you had to unsubscribe. Instagram now allows you to mute the accounts of your choice with the "Mute" function.
Update the flow display algorithm
Instagram removed the timeline from the news feed that allowed you to see the most recent content first and the oldest at the bottom. Instagram now manages the display of the feed by offering the content that it considers most relevant to the user first according to his engagement statistics.
All these updates testify to the constant mutation of these two social networks to answer ever more and better the expectations of their users. If you want to take advantage of your presence on Instagram and Facebook, you have to adapt to it.
neOadviser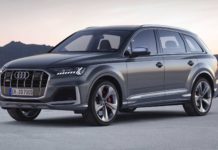 Audi SQ7 is the first model from the Volkswagen Group to get the 4.0-liter TDI V8 engine with 900 Nm rotating power in March...