Working With Big Machines? Here Are Some Tips On Maintaining Them
Heavy machinery is expensive, and it can cost a fortune to replace it. Ensuring that your machinery is in perfect working condition is vital as it allows for increased productivity by decreasing downtime caused by machinery disruption. Moreover, regular maintenance also increases the longevity and durability of machinery. Here are some tips that can help you maintain your heavy machinery:
Regularly Clean And Lubricate Your Equipment
Cleaning of huge Industrial storage systems equipment and machinery often gets overlooked because of the sheer size of the machinery. Dirt, dust, and grime that settles on the equipment can however impair its long-term functioning and shorten its shelf-life. Dirty equipment is more prone to breakdowns and therefore a regular cleaning schedule can save you a huge amount in the long run. Luckily, big machinery often comes with filters that keep inner parts clean and free of contamination. It's important to ensure that these filters are not clogged by dust and are functioning, and if not, they should be replaced promptly. You should also lubricate bearings and other parts of your equipment as it facilitates smooth functioning.
Employ A Preventive Maintenance Strategy
Preventive maintenance differs from regular maintenance in that it involves anticipation and prevention of major equipment failure through planned inspection. These are scheduled at set intervals and allow for early detection of faults in machinery. As there are many parts that comprise the body of heavy equipment, crane wheels are one that should be replaced if the wear is more than 15% of its original thickness. Because of their function, the wheels often wear and break over time even when used with caution. Therefore, employing a preventive maintenance strategy is necessary as this ensures the safety of the machinery. Moreover, regular inspections help you ascertain if your machinery meets local safety regulations and standards. Complying with these standards ensures that your machinery is functioning at its optimum and also helps you avoid fines.
Ensure Safe Storage
Storage can play a big role in the durability of big machinery. Leaving it out in the open where it is exposed to changes in weather – be it heat, rain, flooding, and snow – can cause rusting and damage to your equipment. In order to avoid the harsh effects of nature on your precious machinery, maintain and ensure safe storage. You can either place the machinery in a warehouse or cover it up.
Train Your Employees
Big machinery typically requires technical expertise to operate and it's imperative that you properly train and educate your employees on its operations. Poor handling and unskilled use can take years away from your equipment. Moreover, allowing employees to operate big machinery without required competence can prove to be a safety hazard. Therefore you should organize regular training sessions and ensure that the employees are up-to-date on the skills required to operate the machinery. Hand out operating manuals and you can also check for any certifications – if needed – for a particular piece of machinery.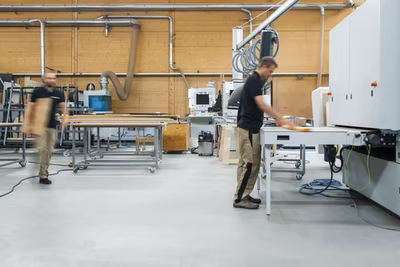 Heavy machinery tends to be expensive and can be very difficult to replace. Therefore, by using these maintenance tips, you can ensure its maximal efficiency for a longer duration of time, hence saving you your financial investments. Timely inspections will also detect any potential safety hazards and will allow for a safe working environment.