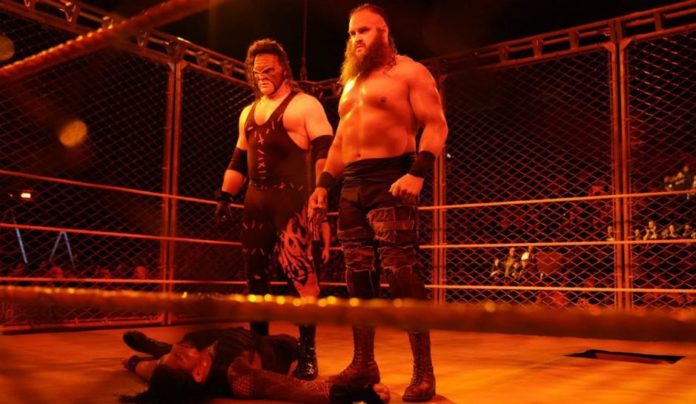 The return of Kane was a completely unexpected move that took WWE fans by surprise. However, it seems that a huge storyline is being developed and Kane's return on RAW will be the central plot to it. It is worth noting that Kane was a SmackDown superstar before he decided to take a break to focus on his political career.
The latest WWE rumors indicate that Kane has returned to avenge the loss suffered by his kayfabe brother, The Undertaker, at the hands of Roman Reigns, as reported by the Wrestling Inc. While it was never explicitly stated, it was believed that The Big Dog had retired The Deadman at WrestleMania 33. However, several reports have emerged since then that suggest The Undertaker might make a comeback.
During the match on RAW, Kane appeared from under the ring much to the surprise of Roman Reigns. He then chokeslammed Reigns before delivering a Tombstone Piledriver and in the process aligned himself with The Miz's team. Kane is now the fifth member of the Miz's team that will face The Shield in a 3-on-5 main event at the upcoming TLC pay-per-view.
It is also being rumored that The Undertaker will return at Survivor Series to align himself with The Shield. As reported earlier by Inquisitr, if there is any possibility that The Undertaker will return even once, it could be at Survivor Series as it was his debut PPV. Reports also emerged that indicated that The Deadman was training in the ring before SummerSlam.
OH. MY. GOODNESS!

WHAT IS @KaneWWE DOING HERE?! #RAW #SteelCage pic.twitter.com/do7oAJgTJ4

— WWE (@WWE) October 17, 2017
While the return of Kane for just TLC makes no sense, the rumors of the return of The Undertaker need to be taken with a grain of salt for now. WWE officials may have planned some great feuds, including the one between Kane and The Undertaker. However, it remains to be seen how the storylines develop in the next few weeks.
Do you think the return of Kane will set up a platform for the return of The Undertaker? Let us know your views in the comments section below.