ZTE may be the first company to launch an under-screen camera phone, but soon there will be strong competition
Chinese tech giant Xiaomi has today introduced the third generation of under-screen camera. This manufacturer had warned this type of camera technology in June last year.
[td_block_ad_box spot_id="custom_ad_2″]
Xiaomi will soon incorporate selfie cameras under the screen. The company unveiled the "third-generation" technology of on-screen cameras showing us what to expect from Xiaomi phones in the future. According to the company, for the first time, phone screens will be complete without cutting or splitting the selfie camera and without the need for motor mechanisms such as "pop-up."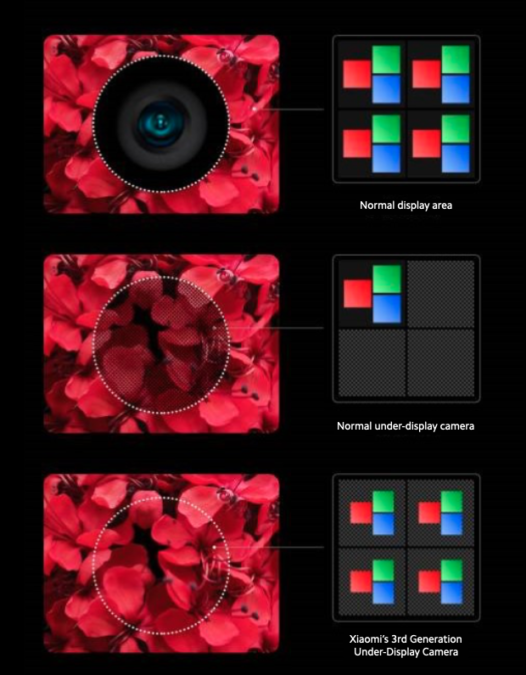 Xiaomi says it has used an overlay of pixels on the screen which allow light to pass through without compromising the quality of the screen.
Xiaomi has highlighted the third-generation camera module under the screen in a post on its official blog, and the Chinese company says the sensor is invisible thanks to its "self-developed pixel arrangement" with double the number of horizontal pixels and vertical, thus achieving the same pixel density as the rest of the screen. This means that you will not be able to notice the camera module below the screen, leading to a more comprehensive full-screen design.
Xiaomi also says that it has changed the camera algorithms so that its under-screen modules provide the same image quality as conventional selfie cameras. The company claims that the picture quality of this camera is the same as a normal camera however this remains to be seen.
When will this technology debut? According to the company, mass production of smartphones with this camera will start in 2021.
[td_block_11 category_id="3″ limit="1″ td_filter_default_txt="" tdc_css=""][td_block_ad_box spot_id="custom_ad_3″ tdc_css=""]