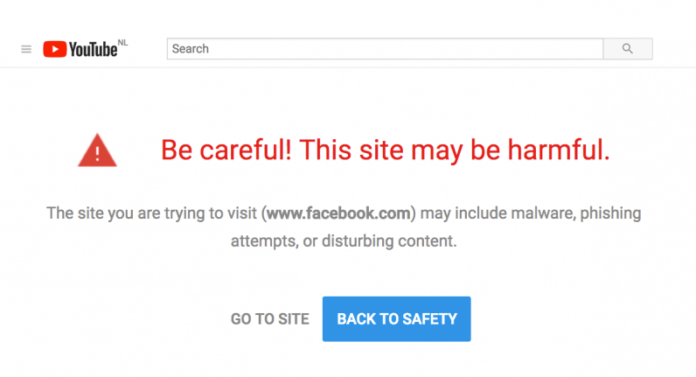 As part of its efforts to make the internet a safer place, Google has begun displaying warnings when opening links posted under YouTube videos. But it appears that, in addition to malicious pages, the video sharing service is wrongly flagging tons of legitimate websites for "malware, phishing or disturbing content."
A number of users have reported that clicking on links found in the description field under videos now redirects them to a warning page, cautioning users against opening certain websites. Among others, it appears Google is targeting popular destinations like Facebook, Twitter, Patreon and – on at least one occasion – the White House.
Here is how the warning looks like:

It appears that Google is running a trial with this sort of warnings on YouTube – and has been for a couple of months now.
While some TNW staffers were greeted by a warning message when clicking on links under certain videos, other colleagues were able to open links under the same videos without seeing any warning at all.
Interestingly, the warnings seem to appear selectively. While links under a little known channel (with less than 10,000 subscribers) prompted the malware warning, URLs posted under videos from YouTube personality Philip DeFranco seem to open just fine.
While Google has long implemented similar warnings on Search, it appears the company first introduced the feature on YouTube as early as October last year.
Indeed, a slew of miffed users took to Twitter to complain the video sharing service seems to be blocking lots of credible websites with these warnings, including the White House and IBM:
When you link from Youtube –

Be careful! This site may be harmful.
The site you are trying to visit (https://t.co/5lhHelFlLt) may include malware, phishing attempts, or disturbing content.
GO TO SITEBACK TO SAFETY
WTF???

— Nancy Kovar (@OutTheFed) December 23, 2017
@ibm I was on your IBM Watson YouTube Home Page, clicked on the Learn More link and a scary message appeared on YouTube: "Be careful! This site may be harmful."; See attached Images:

/@himgoyal pic.twitter.com/SUvlrSrZ49

— Sanjaya Kumar Saxena (@sanjayaksaxena) January 6, 2018
LMAO, so that's how we playin now YouTube?

Talk of preventing patreon from being linked in annotations came up last year, and now YouTube is pulling this if you click patreon links in the description, they really don't want you pledging do they? pic.twitter.com/mDpVIhLrIp

— ThePedanticRomantic (@PedanticRomantc) January 21, 2018
We have reached out to Google for further comment and will update this piece accordingly should we hear back.
In the meantime, try not to get freaked out if YouTube flags your favorite site for malware – chances are it's a glitch.