This new model will have enough space for seven people.
The German manufacturer has introduced the GLB model, the exterior of which is very similar to the G-Class.
Though it appears to be small in size, it has the capacity to sit seven people, offering even high comfort. There are only two versions, presented so far, such as GLB 250 and Edition 1.
The outside appearance is similar to the concept that we have seen a few days ago, only the grill is down, the ceiling has no agressive lines and the wheels are smaller.
2020 Mercedes-Benz GLB 250 Edition 1 in white with brown interior / Image Credit: Mercedes-Benz
With a platform like A-Class, it offers two rows of seats, while the third is optional, while between each of the seats is a glass holder as well as a USB port.
The driver has a seven-inch screen information system as well as another in the same format that is touch sensitive.
Installed in this Mercedes are also Apple CarPlay and Android, as well as the MBUX system that can be controlled with voice.
The Mercedes-Benz GLB is the 2.0-liter engine that produces 221 horsepower, while it is said that the speed of zero to 100 kilometers per hour can reaches in 6.9 seconds.
2020 Mercedes-Benz GLB 250 in blue with black interior / Image Credit: Mercedes-Benz
The launch is expected to take place at the end of the year, when it will be known the price it will have.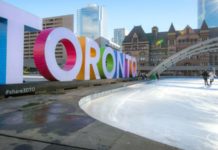 Our topmost list of five great things to do in winter in Toronto sounds one of the most adventurous things you can ever dream...