If you are running your website, then the first thing you should do is to register your domain for that website. Domain registration is something that will give your website identity, and the people who are searching for your website could easily refer to that domain name.
In this article, we are going to share with you the guiding steps to help you register your website domain. Although it is not an easy task to do that, you can learn through this article. Just implement the tips provided to you and get the desired domain registration.
1. Chose Appropriate Domain Name
The first step that you have to follow to get the registration of your website is to first think about the name of the domain you want to have. Just make a list of a few domain names you would like to have. One name is recommended because the chances are that the same name is already taken by someone else, so for that, you must have some other name on the backup.
For instance, you have a clothing website, and you specifically mention about long prom dresses, then you have to add this prom dresses specialty to your domain name rather than a general name which is probably already taken by some other clothing website.
2. Obtain Primary and Secondary Server Name
If you already own some kind of web host, then the first task you have to ask them about providing you with the primary and secondary server name. Now, these terms and things might be alien for you but do not worry. You do not need to have deep information about them. Just mention about the requirement you have, and you will be followed back and provided with it.
Even if you cannot tell them directly, you can email them by finding it from the website. It is also possible that you may not have a web host at present, then, in this case, you have to read more in this article to find out. Do not worry at all about it because it is very simple to get the web host.
3. Try to Park Your Domain Name
In case you are not having any web host with you, you can directly apply to have a parked domain for yourself that they will specially make for your website. It is one on a temporary basis till the time you get a web host for this. The biggest advantage of doing this is that it helps in making the domain completely secure for you at the right time before it becomes too late.  So, do not wait and apply for it today.
This article must be very informative for so many people. You cannot get rid of this important thing when you have your own website. You have to get the domain one or the other day, so the right time is now. Just read more about it and get a properly registered domain name for your personal website.
neOadviser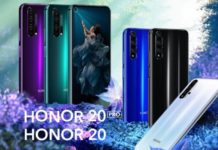 Honor launched the latest series of smartphones, called "Honor 20", at a London event.The phones debut in a new campaign titled "Capture Wonder" and...