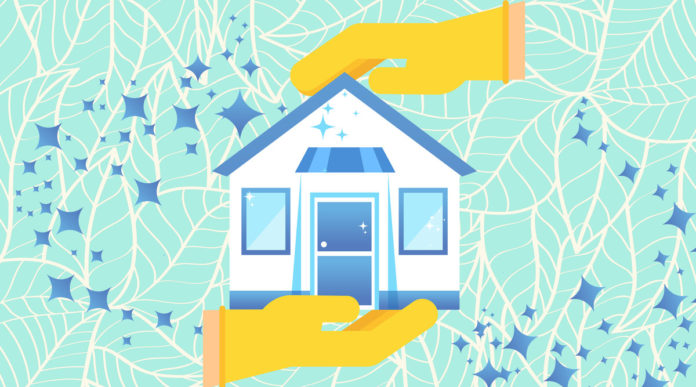 Springtime is known as the best t time of the year to deep clean in and around your house. Your home should reflect the spring season by purging the dust of the last year to make room for the new year. 
For those of you that are not particularly enthusiastic about deep cleaning nooks and crannies, here is a list of the basics that you should not skip.  
Gutters
Throughout the fall and winter, your trees shedded all of their leaves and petals and entered your gutters. Unfortunately, if left untouched, all of this debris can block your gutters and cause expensive issues.
It's important that you clean your gutters so that they are clear for doing their job during the raining season. If you skip this important part of spring cleaning, your home will potentially flood with water, and even affect your home's foundation. You may want to consider buying new gutters if they're more than 15 years old. 
Porch
As springtime makes way for summer, you'll likely be spending more time outdoors. Summer barbecues and pool parties are just around the corner. If you have a porch or deck outside, it's a great time to clean it off.
Get rid of excess dust, dirt, and leaves, which accumulated. While you're at it, rinse off your deck furniture and equipment. 
Floors
Hopefully, you vacuum and mop your floors throughout the year since crumbs, spills, and bacteria gather regularly in that part of the house. However, once or twice a year, it's important to do more than a surface clean.
You should do a full carpet cleaning, and steam and detail all of the corners that you may not regularly get to. If you have a larger home, and that sounds like far too much work, then consider hiring a professional cleaning service.  
Dust
After a dark winter, the spring brings in sunlight.  In the sunlight, it's easier to see all of the dust that's accumulated in places you didn't even know dust could reach.  
Pull your sleeves back and start dusting! That means dusting every leaf on your houseplant, the top of every door frame, and along the surface of every piece of furniture that you own. 
Rearrange/Purge Closets
You probably aren't going to need your cashmere sweaters and heavy coats in the warm weather. Take the opportunity to rotate your seasonal clothes and make room for warm weather clothing. Store away anything you won't need until next winter, and consider donating anything you haven't worn in the last year! 
Ultimately, although cleaning may not be a ball, the results are well worth the effort. Your home will be fresh and new and free of old clutter.
Think of it as a metaphor for making way for new opportunities! Happy spring cleaning!
neOadviser
Your car's radiator has an essential job. It keeps the engine from overheating by pumping coolant through it. This coolant receives heat and moves...