Benefits of speech and drama class
Speech and drama class is a class in which students are taught how to communicate through words and actions. How well a student does in such a class depends on the student's ability to learn and perform skills. Best speech and drama class is a dream for every learner. Some things that students learn include learning how to speak publically, giving speeches, performing play-writes, and impressing others with different accents. Students can also have an opportunity to explore the world of acting with different performance styles like realistic, fantasy, or comedy.
Benefits of speech and drama class
1. Effective communication
A student can communicate through words and actions in a friendly and effective way. He or she can talk to different people with different cultures in order to develop tolerance, understanding, respect for the rights of others, and good understanding among nations. Students have an opportunity to learn how to perform plays, poems, and other styles of drama. Through this, they can confidently present a speech, do well in speech competitions, or even become actors or actresses.
Specialized skills
Drama acting is also known as theater acting. It is a universal language that enables one to learn how to express oneself by using voice and body gestures convincingly in order to transmit intended messages from the stage. It is a form of self-expression that boosts the communication skills of a person.
2. Tools to understand the world
In speech and drama class, students are taught to speak in public, give speeches, and perform plays. Learning these skills makes them more aware of the people around them who can help or guide them if they experience any problems or problem-solving in their lives as well as enhance their opinions about different cultures and beliefs. Also, it makes them appreciate people from other backgrounds since they have gained new insight into how people think, feel, and live. Thought-provoking
3. Learn how to develop strength in mind and body
Though it could be boring at times, all kinds of things are learned in this class.  You learn how to be more confident and perform things you may not have thought you could do before. It helps you build courage and strength.
4. Develop social skills
Drama classes teach people how to reflect on other people's ideas or views by acting in front of an audience. This is the role of the best speech and drama class. They learn how to write scripts, practice their delivery, develop characters and act in front of a fictitious or real audience as a way of expressing themselves, which is very helpful in their future lives as they will be able to express themselves more confidently when they are faced with problems that require effective communication and resolution thereof.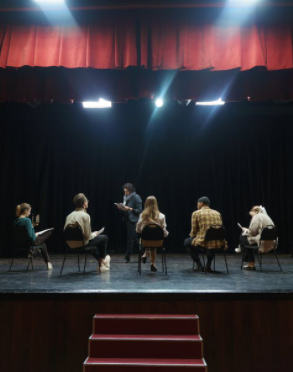 5. Improve self-esteem
In speech and drama class, students are taught to express themselves in different circumstances and take control of their minds so that they could face life problems confidently. The best speech and drama class will help you achieve this. They have confidence in expressing themselves, which helps them deal with life problems and make decisions accordingly. Students learn how to express themselves in front of a live audience because they feel comfortable doing it.
6. Become proficient or able actors or actresses
Students can also explore their creativity, imagination, and natural talent as an actor or actresses during the course of their speech and drama classes. They can choose from different play scripts to perform on stage and are given practice sessions for performing before the class each week.