Locked Your Keys In The Car? Here's What To Do
We've all been there where we're locked out of our car, with no idea how we can possibly get back in. If this unfortunate event ever happens to you, don't worry. In this article, we will provide you with all the information and steps needed so that you can quickly unlock your vehicle. 
Call An Auto Locksmith
Another option you have when you locked your keys in the car is to call an auto locksmith. A qualified auto locksmith is a professional who specializes in opening locked car doors, which means that they will have the tools and expertise necessary to open your car door without damaging it. Once you have called an auto locksmith, they will usually ask you for your location so they can dispatch someone to your aid. When they arrive, they will assess the situation and determine the best course of action. In most cases, they will be able to gain entry to your car within a matter of minutes.
Use A Coat Hanger
Try to get back in by using a coat hanger. This method can be tricky, so it's important to follow the instructions carefully. First, straighten out the coat hanger so that you have a long, thin piece of metal. You'll want to aim for the space where the locking mechanism is located. Once you've found the right spot, wiggle the hanger around until you feel it catch on something. Then, pull up on the hanger while simultaneously pressing down on the power lock button inside the car. If done correctly, this should unlock your door. Of course, this method isn't foolproof and there's always a chance you could damage your car door or window if you're not careful. 
Call Roadside Assistance
If you're lucky enough to have roadside assistance, give them a call and they will come and help you out. If you don't have roadside assistance, you can sign up for it. You may have to contact your auto insurance company, car manufacturer, or online subscription services. Follow their instructions to get the service activated. If it's after hours, you'll need to call a tow truck.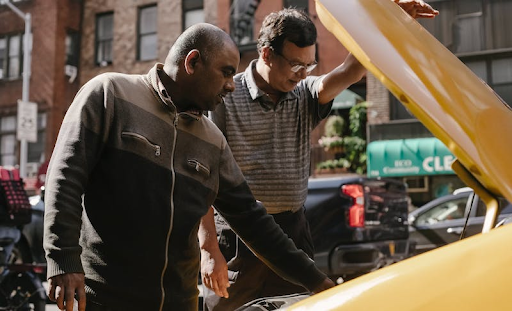 Use A Credit Card
A credit card can also come in handy when in this tough position. Just be careful not to damage your car's paint job in the process. To use a credit card to unlock your car door, start by finding a slim card that will fit between the weather stripping and the window. Then, insert the card into the space between the door and the frame, about an inch above the handle. Next, bend the credit card back toward the door so that it's wedged tight against the latch. Finally, push on the door with your other hand to open it. Locking your keys in the car is a common problem that can be easily solved. With some basic knowledge and item preparation, you can gain access to your vehicle quickly. The next time you lock your keys in the car, remember these steps and save yourself from any added inconvenience.