Facebook is the most significant social networking used not only to connect peoples but nowadays it has become an internet advertising hub. Brands and businesses use Facebook groups and Pages to engage with customers. For major brands, merging Facebook pages is a very important process, because while merging Facebook pages, all the likes and the followers from the previews page will merge with the new one. In this way, the likes and check-ins of both pages will be combined to a single Facebook page which can result in a decrease of the management work needed. So, to help admins merge their Facebook pages, in this article we are going to share everything they need to know and the simple steps to merge Facebook pages. The same method work even if you need to merge Facebook business pages.
[td_block_ad_box spot_id="custom_ad_2″ separator=""]
> Check out: How to Clear your Search History on Facebook (Mobile&Desktop)
Why Should You Merge Facebook Pages?
There may be multiple reasons why you want to merge Facebook pages.
Reason #1: You may have multiple Facebook pages with the same name that are usually created a mistakenly long time ago.
Reason #2: You may have brand pages that ar created with different names and wat to merde then in a single one.
Merging duplicated pages will help keep your customers, fans in one place and let you have full control of messages and marketing.
Preparation For Merging Facebook Page
You will be eligible to merge only these pages that have a similar name and represent apparently the same thing. Also before merging, you need to do some changes to your pages:
Change the names of the pages to the same. If the same isn't possible, then make them as similar as possible. For example, neoAdviser and neoAdvisers both are almost similar possible to merge.
Update the about section with similar information. This probably maybe your website, address, and description.
Points to be noted:
To merge two or more Facebook Pages, you should be admin of then both
The pages should have the same name and represent the same thing
Local pages should have the same address
In no option to merge is available, they may be different reasons. In this time you can request Facebook for a review.
Note: You probably may want to merge the page that has fewer likes into the one with more. You most understand that content of the merged page will be wiped totally. So, before continuing to the Page merge steps, you may need to download all the essential photos and another stuff you may need.
Steps to Merge Two Facebook Pages
Sometimes admins have more than one page. If these pages are for the same purpose, admins would rather want to merge the pages together to engage more audience. In this way, admins can combine the likes and check-ins of both pages into a single Facebook page. This decreases management work.
So, follow the steps below to simple merge Facebook pages:
Part 1: Steps To Merge Facebook Pages With Similar Name.
If you fave pages with similar names, then follow these easy steps given below to merge pages on Facebook together :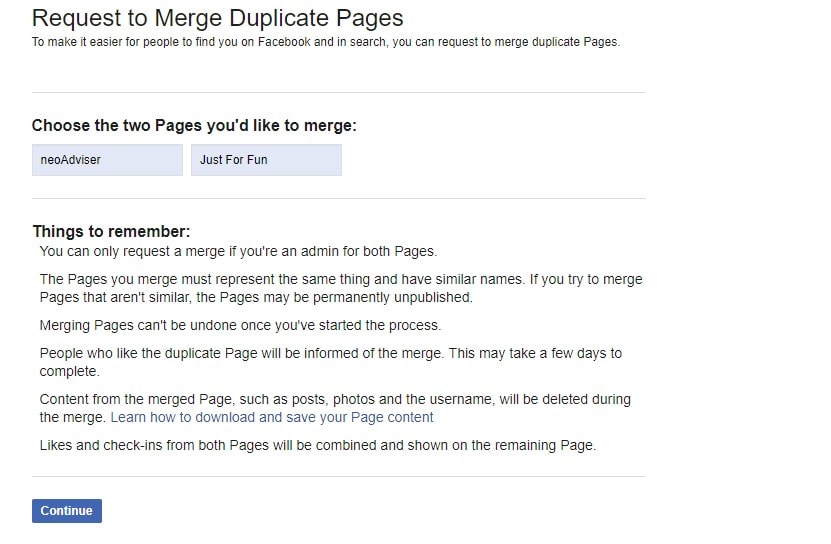 Step 2. Type the names of the two pages you'd want to merge and press "continue"
Step 3. Pick which Facebook Page you wish to keep and press "Keep Page" button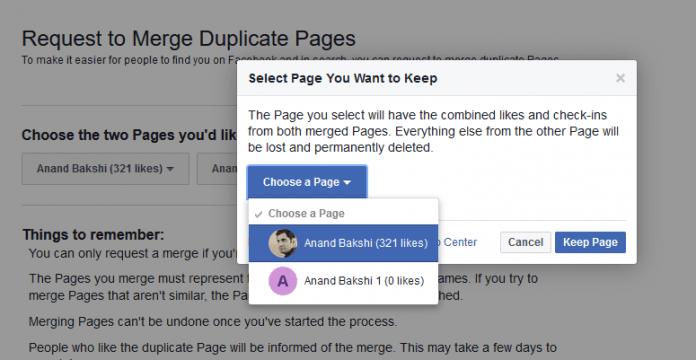 Step 4. Confirm the Merge Request by pressing the "Request Merge".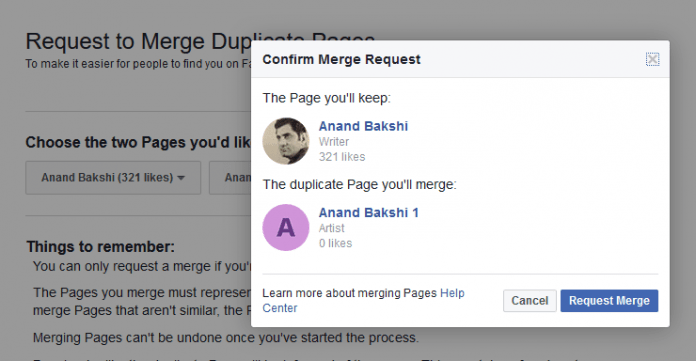 Step 5. Finally, you will get a "merge request successful" message.
By doing this successfully, you will not end up with a single Facebook page that has combined all the check-ins as well as likes.
> Check out: How To Accept All Friend Requests On Facebook At Once
Part 2: Steps To Merge Facebook Pages With Different Name.
As per Facebook page policies, you will be able to merge only pages with similar names. If you are looking to merge Facebook pages with different names, before going to the steps shared above, you will need to make some changes to your Facebook page name. Follow the steps below to change your Facebook name:
So let suppose, for example, you have to different page name, the 1st is neoAdviser Name and 2nd is Endrit. Now you to merge Endrit into neoAdviser. For this, you need to change Endrit's page name to neoAdviser. To better understand, if the page name too much different then change the name in 2 or 3 processes.
In first request, Endrit => neoAdviser Endrit
In second request neoAdviser Endrit => neoAdviser
You can do those names change according to you your page name.
Part 3: "Pages can't be merged" Error Solution
1st Error:
"AN ERROR HAS OCCURRED WHILE MERGING PAGES. THIS MAY BE CAUSED BY YOUR ATTEMPT TO MERGE TOO MANY PAGES." 
This error occurs when admins are treating to merge more than 5, 6 pages. At this time Facebook restricts automatic merging. To resolve this, you can reduce the total merging pages. Another tip is to merge multiple Facebook pages that have a very similar number of likes.
2nd Error:
"THESE PAGES CAN'T BE MERGED BECAUSE THEY ARE TOO FAR APART. EACH PAGE CAN ONLY HAVE ONE PLACE ASSOCIATED WITH IT. DON'T USE THIS TOOL TO MERGE DIFFERENT BRANCHES OF YOUR BUSINESS. IF THESE PLACES REFER TO THE SAME PLACE, TRY CHANGING THE ADDRESS ON THE DESTINATION PLACE AND WAITING FOR THE LOCATION TO UPDATE."
The solution to this is to remove the addresses of both pages before starting the margin procedure. Remove also Map.
What to do after successfully merging two Facebook Pages?
Update the profile picture, cover image, and fill the About section with relevant information. Also, put in the most important keywords.
Set the Facebook page to local and allow check-ins.
For the business Facebook pages, make sure to verify it. After successfully verification you page visibility in search engines will be improved.
> Check out: Invite All Friends To Like A Page On Facebook (2 Methods)
So, that's all about how to merge Facebook pages easily. The same method shred above works even if you want to merge Facebook business pages. Hope you found it useful! If you have any question, please let us know in the comments section below, follow us on Twitter and Facebook for more news and updates.
neoAdviser
[td_block_11 category_id="3″ limit="1″ td_filter_default_txt=""][td_block_ad_box spot_id="custom_ad_3″]