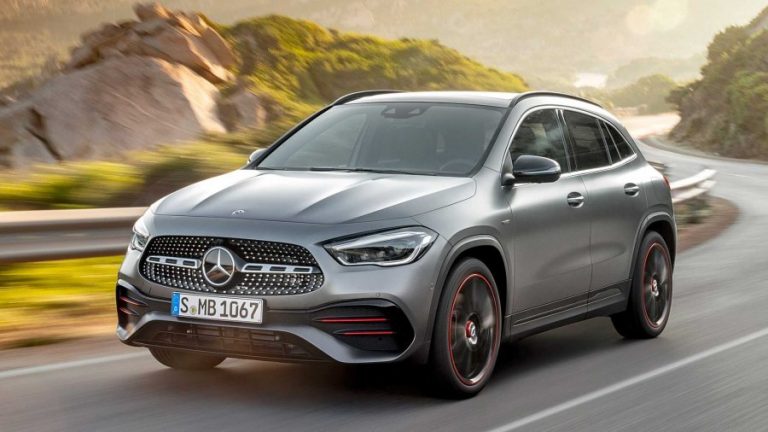 The prestigious German automaker, Mercedes, has held the official promotion of the new generation of small crossover – the GLA, which comes with the MFA2 platform.
[td_block_ad_box spot_id="custom_ad_2″]
This means that unlike the current model, the new GLA has the longest axle for 30 mm, 14 liters of luggage (435 in total) and 116 mm more rear passenger compartment. The GLA II is also taller by 104 mm (now 1.6 meters), wider by 30 mm (1.8 meters in total) but also 14 mm shorter (now 4.4 meters) than the previous model.
In addition to the new generation of A-Class, CLA and GLB, the new GLA will also come with a modern interior, including digital instrument panel (with 7.0 to 10.25-inch screen depending on version), materials quality, heated and massage seats, etc.
Also, the interior of this new Mercedes Crossover features the MBUX (Mercedes-Benz User Experience) entertainment and information system, which has the ability to learn thanks to artificial intelligence, intelligent voice guidance system, 360-degree camera, and with the car wash function which after activating folds the mirrors and closes all windows, including the ceiling.
Regarding the range of engines, the new GLA, depending on the market, will offer these petrol engines: 1.33-liter with 163 hp (GLA 200 version) and 2.0-liter with 224 hp (GLA 250 version), as well as 2.0-liter with 306 horsepower (Mercedes-AMG GLA 35 version). It will also offer diesel engines whose specifics have not yet been disclosed, but the 1.5-liter 116-horsepower and 2.0-liter 150 and 190 horsepower are expected to be available.
Also, some versions of the new GLA will be available with the 4Matic all-wheel-drive system as well as the Off-Road Engineering package.
Mercedes GLA II will also come with an automatic braking system (speeds of up to 60 kilometers per hour), a dead-angle viewing system, a car lane stand, and more.
The second generation of GLA will also be available in the European market from next spring, where in Germany the base version will start selling for less than 35,000 euros and will be responsible for its production factories in Germany and Beijing, China (the latter only for the needs of the Chinese market).
[td_block_11 category_id="3″ limit="1″ td_filter_default_txt=""][td_block_ad_box spot_id="custom_ad_3″]