[td_block_ad_box spot_id="custom_ad_2″]
The Bronco is a model that was previously produced in the period 1965-1996, but apparently, based on history and previous success, Ford has decided to bring it back to life by modernizing it where possible. As is sometimes happens, beautiful things often remain objects of desire because Ford predicts the Bronco will debut only in North America and at a very attractive price starting at $29,995. To this must be added taxes of course, but seeing what is offered, the price remains a strong point.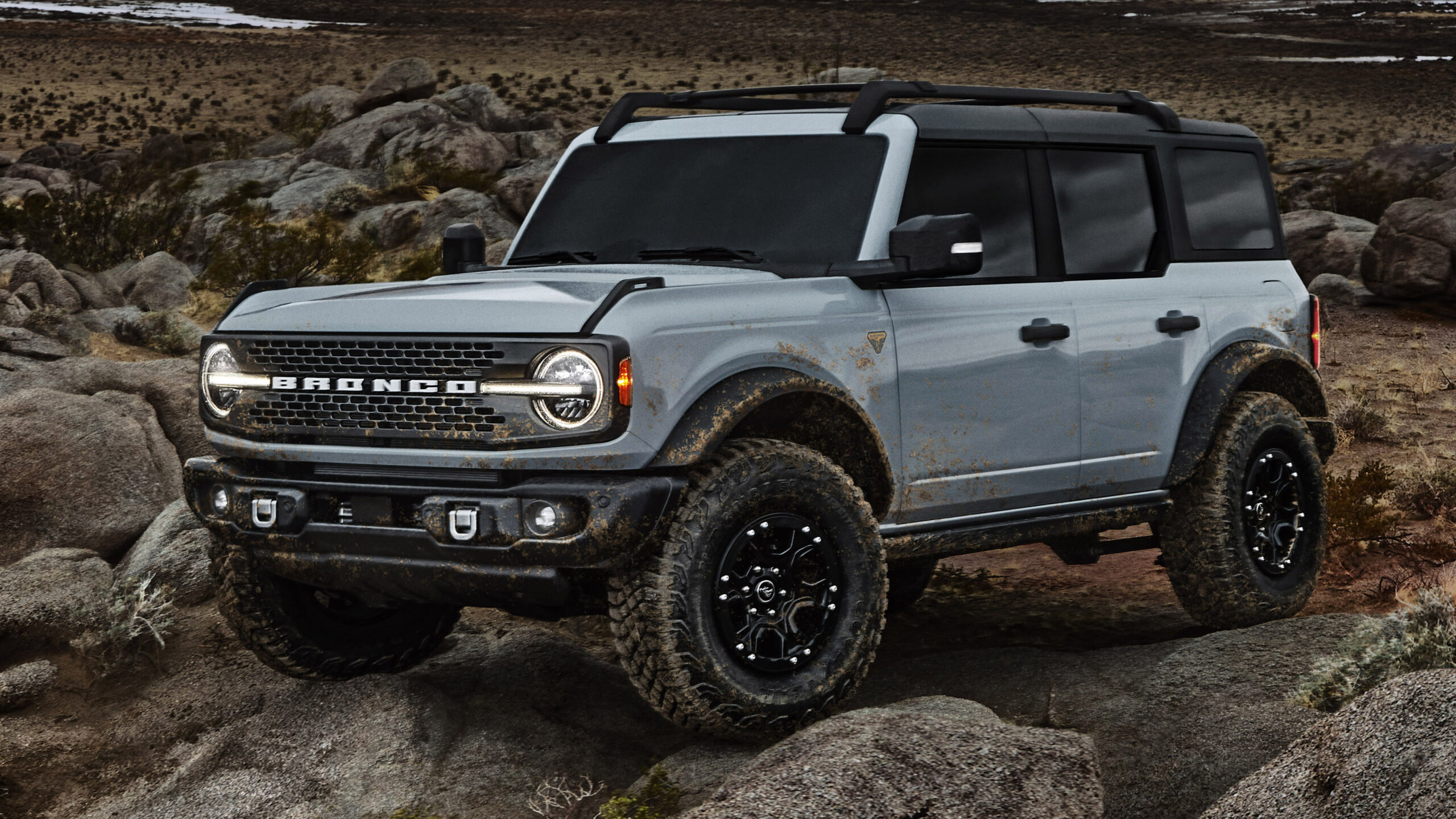 But how is the Ford Bronco?
This model catches the eye of serious off-road enthusiasts and targets competing models like the Jeep Wrangler or Land Rover Defender. Like them, the Bronco is offered in two body versions: two-door and four-door. The length ranges from 441 cm for the "short" version to 481 cm for the long version. The rear door "glass", which is given exactly as a door, can be removed along with the doors, thus making it a model ready for adventures in the Safari territories.
As for the shape, Bronco brings back a somewhat vintage spirit in memory of old models, but the remake is modern and current. For ex. the headlights are round but have Led lights. All attention is paid to off-road use. We can mention here for example the numerous plastic protectors on the fender, under the engine, etc. "The tires are giant with dimensions that go up to 35".
Inside the Bronco though it recalls the past it is even more modern with the big Led screen in the center of the dashboard which is able to connect to the internet with the 4G system. The navigation interface provides info from NeoTreks 'AccuTerra Maps platforms, where over 1,000 off-road excursion proposals can be found.
The Broncos frame is in steel structure such as extreme off-roaders. The height from the ground is 21 cm in normal conditions and goes up to 29 cm in the case of 35″ tires. Bronco is equipped with Terrain Management System that optimizes guidance and traction in various difficult conditions. It offers up to seven programs ranging from use on asphalt to extreme conditions like rocks or mud. The traction is 4 × 4 simple for the basic models while for the evolved models a gearbox with reduced gears is also offered.
Ford Bronco engines are all EcoBoost with four 2,300 cc and 274 hp four-cylinder turbocharged and 2,700 cc 6-cylinder bi-turbo engines with 314 hp. The gearbox is automatic with 10 gears but for this model, we would choose the manual gearbox with seven gears.
Which version would you choose? 
[td_block_11 category_id="3″ limit="1″ td_filter_default_txt=""][td_block_ad_box spot_id="custom_ad_3″]