The German car modification company Wheelsandmore has so far promoted several packages for Lamborghini's Aventador and Huracan models, and its newest creation is the Urus we see in the picture.
Under the hood of this Urus is the 4.0-liter V8 Bi-Turbo engine that is powered at 808 horsepower. This reinforcement will cost buyers 6,500 euros.
In addition to the full 808 horsepower, this Urus also makes it attractive its exterior in black glittering.
On offer, Wheelsandmore also has the new sport exhaust system (4,800 euros), modified shock absorbers and a new set of 22- or 23-inch wheels from aluminum.
The 23-inch wheels come with Continental 295/35/23 and 335/30/23 tires, which cost 11,899 euros.
Lamborghini Urus by Wheelsandmore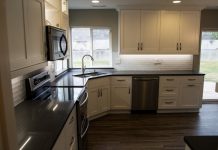 From floor to cabinets things have changed for the modern beings gone are the days when people hired maids for their kitchen usage nowadays...